America's English Side - Including the Rain
Maryland and Virginia
by Sarah Shuckburgh
Pack your bonnet or breeches when you visit Virginia's old-world towns, says Sarah Shuckburgh.
On our 10-day drive through Maryland and Virginia, my husband and I met three presidents, saw three bears, and discovered the delights of parkways and fancy dress.

Our horseshoe circuit began in Annapolis. Named after Que
en Anne, the city is 300 years old this year. It is quaintly pretty, with uneven brick sidewalks and olde-worlde shops. Our guide wore 18th-century costume, and, admonishing us for stepping forth without bonnet or breeches, she escorted us along cobbled streets of Georgian mansions and shingled cottages.

The Annapolis state building is the oldest in continuous use in America, and its wooden cupola, erected without nails, was for years the country's tallest building. The famous naval academy boasts five miles of corridors and some of the world's largest dormitories. We watched the academy's 4000 midshipmen (some of them women) on parade, white caps bobbing above blue-black uniforms, accompanied by rousing naval music. Beyond, Chesapeake Bay glittered in the sunlight.


Between lunch (Maryland crab) and dinner (seared scallops wrapped in applewood bacon) we sailed across the bay in a schooner, propelled by warm winds. Our diminutive female skipper navigated between crab-pots and naval ships, and my husband and I took turns to pull sheets and take the tiller as the boat listed alarmingly.

Next day, we drove across the Bay Bridge and down the Eastern Shore, on byways which wound through forests, cotton fields, vineyards, trailer parks and shopping malls, with glimpses of dazzling estuary. Maryland place-names have a familiar ring – Oxford, Cambridge, Salisbury, Dorchester, Somerset, Worcester. Stopping for petrol at Princess Anne, we found to
wnspeople in 18th-century dress, and historic houses open. President James Madison, 5 foot 4 from buckled shoe to powdered wig, greeted us in archaic speech. On learning that my husband is called Guillaume, he enquired whether I had perchance been abducted during the recent seven-year war.

We wanted to linger but we had far to go, into Virginia and down a spit of land between bay and ocean. The verges were dotted with road-kill – racoons and skunks. Overhead, black vultures wheeled; an eagle perched on a fence as a flock of geese flapped by. On a beach of fine sand, we found sharp-tailed shells of king crabs, a creature 300 million years old. Out in the bay, dolphins formed jet black arcs against the silvery water.

Crossing the remarkable Chesapeake tunnel-bridge, we headed for Jamestown, which in 1607 became America's first permanent English settlement. Virginians are proud that the Ja
mestown charter introduced representative government, rule of law, free enterprise, and English as a common language - first in the colony, and eventually throughout the Union. Jamestown today has reconstructed Indian huts, a triangular wattle-and-daub fort and three sailing ships, where friendly interpreters in period costume explained to us the customs of Pocahontas's Powhatan tribe,

demonstrated sailors' knots, and fired matchlock muskets.

Nearby Colonial Williamsburg dispelled all remaining prejudices against replica buildings and fancy dress. I had expected to scoff, but I was captivated. We toured the governor's palace, witnessed criminal trials, listened to a sermon on liberty, watched blacksmiths, armourers and saddlers at work, and took a carriage ride along wide dirt roads. We also met two more presidents. George Washington, six foot two, with potato nose and sloping shoulders, held forth
on the iniquity of the English tax on tea. Thomas Jefferson, as tall and more handsome, outlined his ideas for a declaration of independence from the Crown. You would need a week to appreciate Williamsburg properly.

Now we discovered the joy of parkways – all-American roads built for gentle, stress-free motoring, with no traffic lights, billboards, lorries or shops. The beautiful, empty Colonial Parkway follows the wooded bank of the James River to Yorktown, where the Victory Centre celebrates the decisive battle of the American Revolution and the end of 169 years of English rule. Pictures of a s
tatesmanlike George Washington and a pompous, ermine-clad George III are captioned with the loaded question, "Which would YOU prefer?"

Next day, we drove west through straggly towns, past farms with white picket fences, woods and fields. We stopped at ramshackle gas-stations where pickup-truck drivers tucked into burgers and fries. In the late afternoon, blue-grey mountains loomed on the horizon. The Blue Ridge Parkway is America's oldest and longest leisure drive. Created during the depression of the 1930s, it follows the A
ppalachian mountain range for 469 miles, linking the national parks of the Great Smoky Mountains in the south and Shenandoah in the north.

The views from the ridge are legendary, but, alas, we awoke to fog, driving rain and zero visibility. At overlooks, we could only peer into nothingness, and imagine 60-mile vistas. After cracking jokes about overlooking the overlooks, we focussed on smaller pleasures, such as our excellent eight-speed windscreen wipers. We tuned our radio to wonderful bluegrass and country music, and then to Bible readings, gospel singing, phone-ins, and weather forecasts predicting more rain.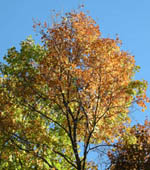 With anorak hoods up, we squelched on patchwork quilts of fallen leaves beneath trees identified by sodden signs – serviceberry, sourwood, sassasfras, sumac, hemlock, blackgum, dogwood and tuliptree. Startled chipmunks, woodchucks, skunks and squirrels scampered across parkway puddles. White-tailed deer eyed us warily, and wild turkeys with lean black bodies strutted into the dripping undergrowth. One morning, by a creek swollen to a thundering brown torrent, a black bear and two cubs ambled out of the trees. Before we had time to be frightened, they had vanished into the mist.


At Mabry Mill, we tucked into buckwheat pancakes and country ham, as rain peppered the millpond and flooded the moonshine stills, furnace and worm-pipes. Gracious Virginians, hearing English accents, thanked us for bringing longed-for rain from our famously foggy homeland.


Roanoke's Explore Centre was open despite the rain. Following a woodland trail through a reconstructed Indian village of bark hovels, we reached a stockaded homestead, where a man in breeches and neckerchief was working a lathe. He introduced himself as Vause, an 18th-century Scotch-Irish settler. We followed him into his smoke-blackened log cabin, where, with fire stoked and tallow candles flickering, he drew us back to the days when Roanoke marked the frontier of the Old Dominion. Beyond, enemy land of New France stretched to Louisiana and Canada. In 1756, Vause's farm was raided by French and Indian marauders. All the men were killed, and the women and children captured. As rain pelted down, our most charismatic historian brought out a fife and played Rule Britannia and The British Grenadier.

Reluctantly leaving Vause to his lathe, we walked on to a reconstructed hamlet of 19th-century cottages, barn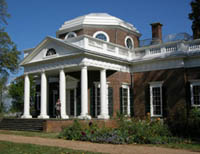 s, watermill and school, where costumed villagers knitted, baked, whittled and milled. A batteauman welcomed us into his shack. Batteaumen were trusted slaves who steered 70-foot riverboats through treacherous rapids, carrying iron ore, wood, furs and passengers on three-week journeys to market. Despite Jefferson's declarations of equality, Virginians owned more slaves than any other colony.

One day, we took a detour from the Parkway to visit Monticello, President Jefferson's house, which he designed himself and filled with his ingenious inventions. By now we felt we knew America's third president well. His familiar face looked out of portraits, as did the instantly recognisable face of his friend (and ours) James Madison, who often stayed at Monticello.


At last, after four days of rain, the skies brightened. Ecstatic, we parked at every overlook to drink in majestic views. We hiked along Skyline trails, clambered up knolls, and sat gazing at misty ridges, stretching to infinity. Our last dose of living history came at Middletown's Wayside Inn. Established in 1797, America's longest running hotel has beamed ceilings, lop-sided floors, waitresses in long skirts, aprons and mob caps - and walls lined with portraits of our friends, Washington, Jefferson and Madison.

North American Highways www.nahighways.co.uk
First published by the Telegraph
©SarahShuckburgh