Desert Song
Joshua Tree National Park, southern California
by Sarah Shuckburgh
A best-selling album was named after the weird yuccas of Joshua Tree National Park, but there's more to this wilderness than its strange flora, says Sarah Shuckburgh.
All I knew about Joshua trees before my visit was the U2 album - but while staying with my son and his girlfriend in Los Angeles, they suggested a weekend in Joshua Tree National Park. An easy 140-mile drive brought us from the smog and traffic of LA to another world – past the giant wind farms of Palm Springs, and on through rugged canyons to the high, boulder-strewn Mojave desert and the laidback, dusty village of Joshua Tree with its spiky, twisted yuccas, and, beyond, half a million acres of desert wilderness.

We had booked rooms at Spin and Margie's Desert Hideaway, just outside the village. We let ourselves in, and found a delightful, low-key paradise. Outside, russet adobe walls surrounded a courtyard with a tinkling fountain, flowering cacti and funky objets d'art. We relaxed on rusty loungers in the dappled shade, with cups of tea brewed in our retro kitchenettes. Hummingbirds hovered at our elbows before darting towards scarlet blossoms. Beyond, the pale raked sand was dotted with desert plants and witty artistic installations featuring bedsprings and car parts. We wished we were staying for a week, rather than two nights.

That evening we picked up a Mexican 'to go' from Santana's in 29 Palms, and took our spicy tacos and burritos to Smith's Ranch drive-in cinema. Locals have been watching films in this field since 1954, and by the time we arrived, dozens had already bagged the best slots. The coolest customers parked their pickup trucks facing away from the screen, and set up folding chairs on the back. One pickup family were snuggling down on a mattress with blankets and pillows. Above, the sky darkened and revealed an unbelievable canopy of stars.


The pace of life in Joshua Tree village is slow. The next morning we spent a long time trying to buy a boxed lunch from a small cafe which also sold vintage aprons at $100 each. After an hour the laidback chef still hadn't begun our order, so we crossed the road to the Country Kitchen, a charmingly over-decorated shack, where the proprietor whisked up a delicious picnic in about 3 minutes.


In the Joshua Tree National Park two vast deserts meet – the high, rocky Mojave and the lower, sandy Colorado. Driving from the north, we found ourselves first in the Mojave – habitat of the Joshua tree, a distinctive, spiny yucca straight out of Dr Seuss. The story goes that this tree-like agave was named by Mormons who thought they saw Joshua beckoning them westwards with outstretched arms. Late 19th-century cattle-ranchers and gold prospectors used the wood to make corrals and for fuel, but for centuries before, American Indians used the tough leaves to make baskets and sandals, and ate the flower buds and seeds. Today, the trees, which can live for 100 years, are a vital part of the desert ecosystem, giving shelter to birds, mammals, insects, snakes and lizards.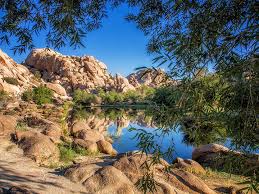 Our first stop was at the Hidden Valley, once a hideout for outlaws and cattle rustlers. This surprising patch of green is surrounded by a cordon of pink granite boulders, many of them six storeys high. We entered through a gap blasted by Bill Keys, a hardy settler who eked out a living in the hi-desert from 1910 until his death in 1969. Today, an easy one-mile trail winds through the quivering grasses and pinyon pines, between giant rocks which were worn into rounded shapes underground, over millions of years.

We drove on through a surreal landscape of grotesquely twisted trees, and stopped again to watch intrepid climbers inching up vertical rockfaces and then standing triumphantly on the top, silhouetted against the dazzling desert sky. We looked in vain for rattlesnakes basking in the sun, and for desert tortoises, which can live for 100 years but spend most of their lives underground. And we drank in the utter silence of the wilderness.


Although it looks barren, the desert is not deserted. American Indians survived here for centuries, hunting bighorn sheep, deer, long-eared rabbits, birds, amphibians and reptiles, and for them the parched terrain was a well-stocked larder with acorns, mesquite pods, pinyon nuts, seeds, berries, and cactus fruits.



Driving south east, we descended into the arid Colorado desert. Below 3000 feet, this is part of the vast Sonoran desert which stretches into Arizona and Mexico. Here granite boulders and Joshua trees are replaced by drifts of pale stones, and clumps of cacti. By good fortune, we visited the park in spring, just after a rare shower of rain. Plants which look dead for the rest of the year had burst into flower, bringing flashes of yellow and scarlet to the parched land. Huge red petals opened from the green paddles of the beavertail cactus. The ocotillo cacti sprouted fiery blossom on the tip of each wispy frond. We drove as far as the Cottonwood Spring, a verdant oasis sprinkled with tiny flowers.

On our way back, we stopped at Key's View on the crest of the San Bernadino Mountains, to gaze out at an extraordinary panorama of mountain and desert. In the Coachella Va
lley far below, we could trace the path of the San Andreas Fault, along which, incredibly, two great mountain ranges are shifting at a rate of about 2.5 inches a year in sudden, irregular bursts. Our side of the valley, the North American tectonic plate, is moving southeast, and the other side, the Pacific plate, is sliding past it, heading northwest. The town of Desert Hot Springs stands directly above the fault.

Back in Joshua Tree village, we wondered how U2's iconic album came to be named. I questioned every ageing hippy and long-haired biker that I saw (and there were many), but they all had different theories. I like to believe that Bono visited the area and, like us, fell for this awe-inspiring desert and its strange twisted yucca.


GETTING THERE 140 miles from LA: 2 ˝ hour drive via Interstate 10 and Route 62.


WHAT TO AVOID IN JOSHUA TREE NATIONAL PARK
1. The desert is full of thrilling dangers: rattlesnakes, scorpions, coyotes, flash floods and over 300 abandoned gold mines with hidden pits and shafts.
2. The cactus to avoid is the fluffy, benign-looking Cholla with spines which are almost impossible to extract, although locals advocate sellotape and tweezers.
3. Avoid dehydration. The air is hot and dry – less than 25% humidity – and the recommendation is a gallon of water per person per day, two gallons if cycling or taking strenuous exercise. (US gallons are about 6 pints). At Cottonwood Springs is the grave of an early settler who died of thirst just 200 yards from the spring.
4. Avoid staying indoors on clear nights. The sky is unbelievably full of stars.



FURTHER INFORMATION
Spring and autumn are the best times to visit Joshua Tree, with temperatures of about 85' (29'C), falling to 50' (10'C) at night. Winter days can be chilly (60', 15'C) and nights freezing, and summer temperatures regularly top 100'F (38'C) and rarely fall below 75' even at night.

The three Visitor Centres at Joshua Tree village, 29 Palms, and Cottonwood, are open daily. Rangers offer advice on hiking trails, climbing and camping as well as maps and other publications.

There are 9 campsites in the park. Picnic areas and campsites have toilets but not drinking water. For a real desert experience, bring a tent and camp in the wilderness. For backcountry camping you must register at a permit station, and camp at least a mile from the road and 500 feet from any trail.

Off-road driving is prohibited, but 4-wheel drive cars and mountain bikes can use unpaved tracks as well as the paved roads.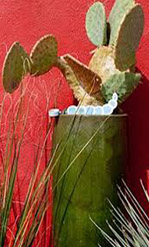 THE INSIDE TRACK
1. Make sure your hire car has a GPS. 29 Palms Highway is 100 miles long.
2. If you are here on a Saturday morning, don't miss the Joshua Tree farmers' market, 8am-1pm.
3. Book early to make sure of a ranger-guided walk to Bill Keys' ranch (760 367 5555).
4. Book in advance, too, for a rejuvenating 'sound bath' in the acoustically perfect energy dome at the Integratron, sited on a powerful geomagnetic vortex.
5. The drive-in cinema at Smith's Ranch shows a double bill at 8pm from Thurs-Sun.
6. Try Mesquite BBQ – cooked on aromatic wood from the Sonoran desert.

WHAT TO BRING HOME:
1. Bunches of sage: burn them and bring good karma to your body and your home.
2. Bric-a-brac in Yucca Valley, 10 mins from Joshua Tree. As well as trailer parks, churches, liquor stores and pawn shops, but Yucca Valley boasts several rambling junk shops.

First published by the Telegraph
©SarahShuckburgh