On the Coast
Los Angeles to Vancouver by train
by Sarah Shuckburgh
Sarah Shuckburgh boards the Coast Starlight for a slow but soothing trip along North America's western flank.
Grand Central Station in Los Angeles is spectacular – gleaming white outside, faded art deco grandeur inside, with huge, firmly-upholstered leather armchairs. But the glamorous days of rail travel are long gone,
and today nobody looks like Cary Grant. I queued for my boarding pass behind a family with luggage in plastic bags. Two tousled urchins
peered at me as their mother checked in. "She's drunk," the steward shrugged, watching her go.


On board the double-decker train, most passengers settled into their allocated seats and tried to sleep, but I went in search of the observation car and found a wonderfully airy carriage with banquettes facing a wall of glass. And in this excellent spot I stayed for the next 12 hours.

The Coast Starlight, Amtrak's flagship train, runs between Los Angeles and Seattle, but today I was travelling as far as San Francisco. As we chugged out of LA, the panorama of parking lots, industrial estates, trailer parks and palms gradually gave way to a beautiful, craggy coastline. For hours, we clattered along the beach, waves breaking on to the stony shore just beside us. At times, the Coastal Highway ran parallel to the track, the cars racing past us. When the highway curved inland, we rolled on through miles of uninhabited wilderness.


The pace of travel was soothing. A far cry from European high-speed railways, Amtrak's passenger services move slowly, stopping frequently in sidings to allow immensely long freight trains to rattle past. West-coast motorists and pedestrians don't expect to encounter trains, and to avoid collisions our train sounded a horn and slowed to a walking pace whenever we approached a road. That afternoon, we were held up for an hour while a car was towed from the track. Apart from local commuter services, there are only a handful of US passenger routes. It seems odd, when railroads played such a crucial role in 19th century America, that trains have been so eclipsed.

Everyone in the observation car wanted to chat, and soon I had half a dozen new friends, including bubbly Rosetta, a crane-driver and devout Catholic; 30-year-old Scott, an attendant on the Indiana Jones ride at Disneyland, thrilled to be on his first-ever paid leave; Karen, a child development specialist who disapproved of cars and planes; and Kevin, who declared London 2012 a disaster compared to the Los Angeles Olympics which made a profit of $1 million. None of my observation-car companions had visited Britain but they were all highly critical of our socialist healthcare system.


While we chatted, Rosetta kept me informed – "those folks are picking year-round strawberries"; "that's a Californian winery"; "the main crop hereabouts is turf"; "that's a turkey-hawk in the sky". Scott hadn't travelled by train before, and was astonished when we drew into a station with two platforms: "Boy, this is like a railway museum".

We saved each other's places on the banquette to allow visits to the snack bar. I tried the promising-looking dining car, with crisp white tablecloths and fresh flowers. Alas, the food was poor – served on plastic plates, tasteless, dry and pricey – but the conversation was lively. At lunch (as we chugged past Santa Barbara, between ocean and high chaparral), I shared a table with Cheryl and Chuck, returning from an all-expenses-paid trip to the Judge Judy Show. They were thrilled: Judge Judy had awarded them a huge sum for a road-rage incident. As our train rolled through a restricted military reserve, Chuck pointed out a missile base with space-shuttle launch pads and runways. "I worked there as a medical orderly", he told me. "Once, a shuttle crashed on take-off and landed on a farm over that hill. I had to collect the wounded farm workers."

At supper (passing the vineyards of Salinas, John Steinbeck's home town), I sat with Don and Joan, who were on a week-long round trip from Chicago, taking a break from their 11 children, 34 grandchildren and (thus far) 24 great-grandchildren. "We sure do have a big family. Oh my!"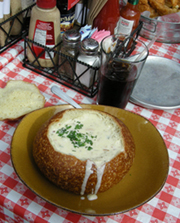 Back in the observation car, Rosetta, Karen, Kevin, Scott and I watched darkness fall, and looked (through the glass roof) for the comets that Scott knew were forecast. The bedraggled urchins wandered by, and asked us how much food cost. Rosetta immediately bought supper for the children and their mother. "We Hispanics can't bear to see children suffering," she said.

An hour behind schedule, at 11pm, we reached Emeryville. I waved goodbye to my friends and took a taxi across the bay to San Francisco. Lying cosily in my hotel bed, I could still feel the motion of the train, and imagined it trundling on through the night.


I spent two lovely days in San Francisco, dining on clam chowder and sourdough bread, exploring Fisherman's Wharf with its historic ships and basking sea lions, and visiting the Waterfront Exhibition which traces the history of San Francisco. The indigenous Yelamu fished here for 10,000 years, until the arrival in the 1790s of Spaniards and Mexicans, and, 50 years later, the traders who were the real winners during the gold rush: boat builders, coffee sellers, chocolatiers (including Ghiradelli, still in business), and tailors, including Levi Strauss (his headquarters is still here). The next day, I rode the trolley up steep streets, admired painted redwood villas, and walked across the blustery Golden Gate Bridge. In the evening, I took the Amtrak bus back to Emeryville and rejoined the Coast Starlight train.


This time I was a First Class passenger with a 'roomette' – a minuscule cubicle with floor space no bigger than my feet and nowhere to put anything. Trying to unpack, I put my Kindle on the bunk, then knelt on it and cracked the screen. Dim lights made reading a book impossible. One good thing: I was travelling alone. Double occupancy would involve the top bunk, a windowless shelf allowing neither traveller to sit up in bed.

I wasn't too keen on my roomette, but I slept like a log, while outside, giant redwoods and mystic mountains glided by in the darkness. I awoke to a glittering landscape of snow. Only now, nearly twenty-four hours after leaving LA, was the train leaving the vast state of California and crossing into Oregon. Snow fell steadily as we passed silvery lakes dotted with islands and fringed with conifers. The palms and heat of LA seemed very distant.

We in Sleeper Class were a notch up from Coach, with complimentary food from a more elaborate menu. For breakfast I ordered tasty crab-cakes with potato wedges, bacon and biscuits with gravy. "You wanted hot tea?" the waitress queried, bringing tepid water, a wrapped Lipton's teabag and a sachet of creamer. When I complained, politely, she brought even cooler water and said "Why not use that bag again?" There is a reason why this Cascades area of the Pacific North-West is known as the 'Coffee Coast'. Locals could not explain why they drink so much coffee, but they all agreed that they hate tea.


First Class facilities included a cinema (2 shows a day), and a glass-walled 'parlor' where I spent the morning in a comfortable armchair, listening to Johnny Cash train songs, selected for me by my daughter. Railroads have played a huge role in American folk, blues, country, rock and roll, and jazz. Johnny Cash's chicka-boom rhythms perfectly matched the clickety-clack of the train, and as he sang about lonesome whistles blowin' and slow trains a-comin', I gazed at the slowly evolving landscape, catching glimpses of strangers' lives - lads hurling logs on to a pickup truck, men shovelling snow from a driveway, and, indoors, television screens flickering.

My new companions were older, more widely travelled and more affluent than my friends in Coach Class, but they shared the same dress code of trainers and baseball caps or unseasonal cotton sunhats. At lunch (passing Eugene, HQ of Nike), I met a couple who, like me, were sleeping in a roomette. I felt thoroughly ashamed that I had found fault with mine. The husband, aged 84, had cheerfully clambered up to the top bunk. "Some folks choose to pay more for a deluxe cabin with a double bed and a private bathroom, but we like our roomette, don't we, honey?" declared this intrepid old gentleman. He had visited London as a teenager in 1946, wearing Levi jeans which at that time marked him as an American. In the Mall, he told me, a car drew up, a window wound down and Queen Mary looked out. "Young man," she said, "Thank you for helping us to win the war."

During the afternoon, the snow disappeared. We chugged through the vast conurbation of Portland and then crossed from Oregon into Washington State. My supper companions were two elderly sisters with not a word of English between them, despite having lived in California for 44 years. They recited loud Spanish prayers before tucking into their chipotle burgers.


I alighted at Seattle (behind schedule as usual - 2 hours late) for another night in a hotel. Next morning, I explored Pike Place, a historic market with fruit and vegetable stalls, fishmongers who fling their catch over the counter to be wrapped, hippy craft stalls, and the world's first Starbucks. There are coffee shops everywhere in Seattle – good for sheltering from the chilly drizzle. I gave up the quest for tea, and enjoyed the drink for which the Cascades Coast is renowned.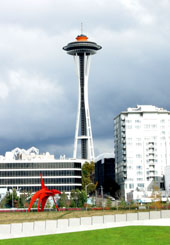 Seattle's waterfront is marred by a two-storey concrete viaduct carrying heavy traffic, but from a distance, on a harbour cruise, I admired the city's cluster of elegant skyscrapers, its impressive docks with cargo ships the size of cathedrals, and its curious Space Needle, 600 feet high. To the north, the noisy viaduct swings inland, and here, overlooking the glittering bay, is a peaceful sculpture park, its sloping meadows planted with different local ecosystems, reflecting Native Americans' intimate knowledge of the Pacific North West landscape.



That evening, I boarded another train for the final leg of my journey up the Cascades Coast to Vancouver. The young man sitting next to me introduced himself as a First Nation wood-carver. I told him that I had enjoyed seeing Native American carvings, masks and woven baskets at the Seattle Art Gallery that afternoon. As our train trundled into Canada, he told me the story of the 19th-century Chief Seattle, after whom the city was named. This peace-loving, forward-looking Chief befriended the pioneers, rather than fighting them, and encouraged a mutually rewarding cultural exchange. Part of Chief Seattle's legacy is that today, on this North-West Pacific coast, Native American arts flourish. "You need to visit again next fall", he said. "Vancouver art gallery is holding a major exhibition of works by Charles Edenshaw, the greatest of all First Nation artists. He died nearly 100 years ago, but I reckon we're all influenced by him."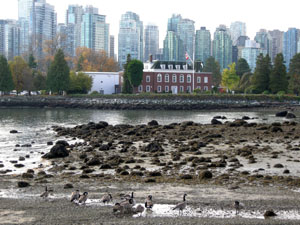 Vancouver is a remarkable city, as densely populated as Manhattan, with urban sprawl prevented by mountains, water and the US border. Stanley Park has1000 acres of protected temperate rainforest, home to raccoons, coyotes and beavers. I made the most of my short stay by hiring a local guide. Paul adored his city, warts and all. "There's a huge gap between rich and poor in Vancouver," he told me, as we passed drug-dependency projects and shelters for the homeless. "We have Canada's wealthiest, and also Canada's most destitute." In the bay, seaplanes took off towards luxury North Shore homes, against a dramatic backdrop of snowy mountains. Paul showed me historic streets with stately stone buildings; we walked part of the 20-mile seawall which encircles the city; we visited a farmers' market with artisanal workshops. And of course I had to try Vancouver's excellent coffee.

The journey from Los Angeles to Vancouver could be done by car in 24 hours, if you drove non-stop. It would take less than 3 hours by air. I spent 40 hours on the train, but what enjoyable, stress-free hours they were. I shared with Johnny Cash a feeling of freedom as the wilderness rolled by and we left our troubles behind. I took a week to cover the 1300 miles, but another time I'd like to disembark at twice as many stations, and take even longer. My fellow travellers may not have been as glamorous as Cary Grant, but the railroad is still a great way to travel.


Inside Track:
- Buy delicious Mexican food from Olvera Street before you board at Los Angeles.
- First Class passengers can check their emails with free (but intermittent) wireless internet
connection in the parlor.
- Book a deluxe bedroom if you can afford it. If two of you share a roomette, make sure one is
athletic and slim enough to scramble on to the top bunk. Roomettes are quite cosy and
comfortable for one, and turn into two facing seats during the day. A cheaper option is to spend
the night sitting in Coach Class.
- People love to talk. If you don't feel like chatting to strangers, wear headphones, or stay in
your cabin.
- The train stops at stations for long enough for a breath of fresh air, but don't wander from
the platform.
- Coast Starlight and Cascades trains run to the same schedule each day. You can arrange
to disembark at any station, and rejoin the train at the same time on another day.
- Bring a shawl or extra jerseys because the carriages can be chilly.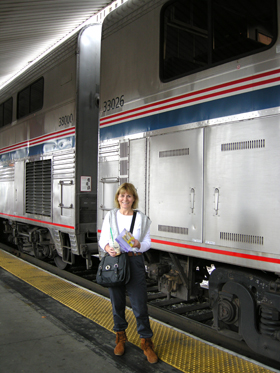 In Downtown Los Angeles:
Where to stay:
- Millennium Biltmore Hotel. This historic art deco hotel is
near the station, and is also convenient for major
Downtown attractions
Where to Eat:
- Olvera Street, right by the station, is the oldest street in
Los Angeles, with a wonderful Mexican market stalls and
restaurants. It is classed as a California State Historic Park.
Visit the Avila Adobe, built in 1818, the oldest house in
Los Angeles
- Perch: a rooftop bar and bistro with great views. Bohemian
and whimsical, with French food, cocktails, outdoor fire-pits,
live music
What to Do
Downtown attractions near the station include L.A.Live with
live shows and concerts, Ahmanson Theatre, Walt Disney
Concert Hall with concerts by the LA Philharmonic, Dodger
baseball Stadium

In San Francisco:
Where to stay:
From Emeryville Station, take the Amtrak bus to Fisherman's
Wharf. There are lots of hotels here, including the Holiday Inn
with big, quiet rooms and an outdoor pool
Where to eat:
- Lou's Fish Shack for sourdough bread bowl with clam chowder, or cracked whole Dungeness crab
- Boudin Bakery, established 1849. See sourdough bread being made and visit the bakery museum before you eat
What to do:
- On Fisherman's Wharf: visit Hyde St Pier, with historic tall ships, tiny dinghies that have been rowed across the
Atlantic, and dozens of other maritime exhibits, including free entry to the Waterfront Exhibition. On Pier 39, avoid the
tacky tourist shops but take the boardwalk for lovely views of the bay, and honking sea lions heaped on wooden rafts.
- Big Bus double-decker sight-seeing. Hop on at Mason St on Fisherman's Wharf. It's a good way to see a lot in one
day – for instance, hopping off at Alamo Square, Haight Ashbury, the Japanese Tea Garden in Golden Gate Park
and the Golden Gate bridge.

In Seattle:
Where to stay:
- The Warwick Hotel: huge rooms with views of the Space Needle and the bay. Well situated for exploring Seattle
on foot
- The Edgewater Hotel: a quirky hotel, built on a jetty, popular in its1960s heyday with the Beatles, Monkees, Mamas
and Papas, Beach Boys & Rolling Stones whose photographs are still displayed.
Where to eat:
- Pike Place Market: make sure you try the local salmon, smoked over alder-wood
- Matt's in the Market, sophisticated American cooking. Good views from the third floor of the Corner Market Building,
by the famous neon clock
- Starbucks: there are many branches, including the world's first at 1912 Pike Place, and one in historic
Pioneer Square.
What to do:
- Don't carry an umbrella – put your hood up, or be like a local and enjoy the drizzle
- Don't miss Pike Place market – 100 years old and still going strong
- Seattle Art Museum
- Take a harbour cruise
- Ride the Great Wheel
- Stroll north along the waterfront to the Olympic Sculpture Park (free entry) which includes works by Alexander
Calder and Louise Bourgeois. Nearby Myrtle Edwards Park is a peaceful waterside strip of grass and trees
away from the roar of traffic.

In Vancouver:
Where to stay:
Stay in Delta Vancouver Suites, with amazing views over water, docks, city and mountains
Where to eat:
- Vancouver Art Gallery is great for lunch, with homecooked dishes, including Namaino, a favourite desert for locals
- Granville Island farmers' market: huge assortment of top quality fresh food, especially fish, specialty fast food, bakery
- Caffé Artigiano, for connoisseurs of coffee, owned by local Todd Pollock. Vancouver's upmarket answer to Starbucks
What to do:
- Walk the seawall, a promenade almost at the level of the water, which runs for 20 miles from Canada Place round
Stanley Park and False Creek to Kitsilano, and is dotted with interesting sculptures.
- Take the small ferry from Sunset Beach by Burrard Bridge to Granville Island and its farmers' market and artisan
workshops such as Broom Co – assorted besoms made by sisters Mary and Sarah Schwieger, who learnt their
trade from their parents.
- Take a private guided tour with a well-informed local: www.ToursByLocals.com
First published by the Telegraph
©SarahShuckburgh