Back on the Map
Rutland
by Sarah Shuckburgh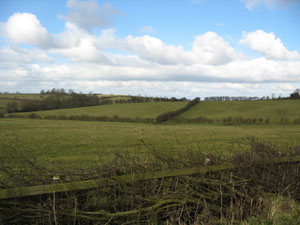 When I was at school, Rutland was famous for being England's smallest county. But soon after I gave up Geography, the shire ceased to exist. Over the years, I've heard my mother talking about bird-watching there, but until last weekend I knew nothing else about Rutland.

I was in for some delightful surprises. For a start, the county exists again – after two decades as part of Leicestershire, Rutland regained its independence in 1997. Secondly, it is wonderfully unspoilt, with pretty villages built of local ironstone, interesting 12th century churches, and huge views of sky and undulating countryside - an eastern Cotswolds, if you like.

Turning off the A1, I find myself driving along narrow lanes bordered with ancient thorn hedges, past fields still marked with medieval furrows, unploughed since the enclosures – a fox-hunting landscape of pasture and woodland.


A reservoir created thirty years ago to supply water for the East Midlands is now a beautiful, glittering lake, and one of Britain's finest nature reserves. The bird-watching centre at Egleton protects a thousand acres of reed beds, lagoons and islands, where 300 species of bird have been recorded. My friend Jane and I arrange to meet here on Saturday morning, and immediately I see why my mother loves Rutland Water. Beyond a swathe of shivering bleached grass and bull rushes, the steel grey lagoons ripple and sparkle beneath pale wintry skies. Flocks of lapwings and golden plovers take to the air, as assorted gulls and ducks bob on the water.

Jane and I meet regularly for walking weekends, but this time, instead of a humble B&B, we are treating ourselves to luxury and Michelin star cooking at Hambleton Hall, an elegant country house hotel overlooking the lake. And we aren't planning to walk far, either - it's windy and cold, and we're feeling lazy. Rejecting the 65-mile route round the whole county, and the 26-mile Rutland Water circuit, we choose a gentle 6-mile stroll round the Hambleton peninsular. The villages of Nether and Middle Hambleton disappeared under water when the reservoir was created, but Upper Hambleton remained, perched on a narrow strip of land. Muffled against the wind, we set off on a fishermen's path, through sloping sheep pastures which run right to the water's edge, past the old road to the flooded villages, which now leads eerily into the lake, and on through patches of scrub and tangled woodland. A couple of hardy cyclists puff past, but otherwise we see nobody. It is utterly peaceful. Resting by a bramble thicket, out of the wind, we gaze out at immense views of shimmering lake and translucent sky - a sepia mix of smudged greys.


At lunchtime, we drive to the Olive Branch in Clipsham for our first Michelin-star meal. The pub is cosy and welcoming, with log fires, beamed ceilings, books, nice old tables and chairs, and cheerful gingham napkins. Dogs pad about, and a small child happily dismantles and rebuilds the log pile by the hearth.

After lunch, we explore the exquisite market town of Stamford, half a mile outside Rutland - the authentic Georgian backdrop for the recent Pride and Prejudice film. The town centre alone boasts 600 listed buildings. Built of local oolitic limestone, the houses have uneven roofs tiled with slivers of stone, and the cobbled streets glow in the wintry sunshine.

Rutland has only two towns - both very small and both best known for their schools, founded in 1584. The county town is Oakham, with a tiny L-shaped marketplace, a 400-year-old buttercross and a church with a soaring Gothic steeple. The castle is in fact the hall of a Norman manor house - a rare example of 11th century domestic architecture. Inside, we admire the stone columns, quarried at Clipsham (where we had lunch), and carved by masons from Canterbury cathedral. One wall is festooned with giant horseshoes, forfeited, since the middle ages, from visiting peers of the realm.


Uppingham is even smaller than Oakham. Improbably, in the 19th century it was a bustling entertainment centre, with elephants, cock fighting, bear dancing and bull baiting in the medieval market square. Today the town is picturesque and peaceful, with houses of local brown ironstone, and smart shops selling books, antiques and art.

Back at Hambleton Hall, the hotel's masseuse restores our strength, and at dinner we manage to tackle the gigantic taster menu – five courses, each with many delectable dishes, washed down with five different wines.

On Sunday morning, we recover by a roaring fire. I am reading 'Set in Stone' by Robert Goddard, which, by an uncanny coincidence, is set in Rutland. At midday, we drive along tiny lanes to the Fox and Hounds at Knossington - an unpretentious village pub with a low, beamed ceiling and quarry tile floor. Local farmers swig beer and exchange gossip by a coal fire, while we tuck into another delicious lunch. Rutland deserves to be famous once again.

First published by the Telegraph
©SarahShuckburgh