Still the Peak of Perfection
Peak District
by Sarah Shuckburgh
Sarah Shuckburgh retraces her steps after 18 years and discovers the peaks and dales little changed.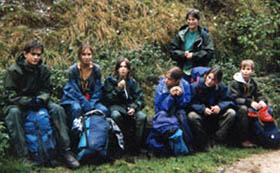 It is 18 years since my friend Jane and I were last in the Peak District. With our six children - conveniently matched pairs aged 8, 10 and 12 - we spent a spring half term hiking from one youth hostel to another, carrying picnics and sleeping bags. It was one of our most successful holidays ever.

Today our children are grown up and are roaming far afield, but little seems to have changed in the beautiful Derbyshire Dales, an island of wilderness surrounded by sprawling conurbations of Manchester, Sheffield, Nottingham, Macclesfield, Stoke on Trent and Derby. Half the population of England lives within 60 miles of the national park, and 22 million visit every year – more than any other park in the world except Mount Fuji – but it remains a timeless haven of natural beauty.


Our young children expected the Peaks to form a mass of sharp summits, and were surprised to learn that there are only two peaks, and neither is pointed. The Dark Peak, to the north, is a dramatic dome of peat bogs and heather, with rocky cloughs, dewponds and gorges, and moorland scattered with knobbly tors. Raptors wheel over this sparsely populated terrain.

Coarse gritstone cliffs extend in a horseshoe round the more benign White Peak, where sheep graze on hillside meadows crisscrossed with dry-stone walls – a verdant landscape of steep-sided dales and rounded ridges, jagged limestone outcrops with patches of scree, ravines with waterfalls, shallow rindles, picturesque villages of sombre grey cottages, and a handful of extremely grand country houses - among them Chatsworth, the 'Palace of the Peak', and the medieval Haddon Hall, home of the Manners family.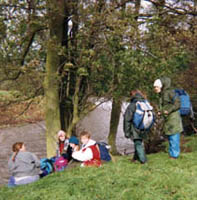 In 1990, we followed disused railway tracks and footpaths north from Ashbourne to Bakewell, staying overnight in the villages of Ilam, Hartington and Youlgreave. Jane and I decide to retrace parts of our original 31-mile route – but this time staying at the luxurious East Lodge Hotel, once part of the Haddon estate.

Driving to Ilam, we find that eighteen years have done nothing to dim the beauty of Dovedale. We walk upstream through dramatic winding canyons, beneath limestone pinnacles sculpted by frost and rain, across water meadows into peaceful Wolfscote and Beresford dales, and on through groves of beech, oak, rowan, wych elm and ash, planted for cotton-mill bobbins. We remembered the river in flood, a brown churning torrent covering the famous stepping stones, but today the sun is out and the water is clear and sparkling.


The youth hostels at Ilam and Hartington were – and are - in stately houses - Ilam Hall an impressive National Trust mansion with formal Italian gardens, parkland and woods; Hartington Hall a 17th century manor house, where Bonnie Prince Charlie reputedly stayed in 1745. Youth hostel rules were strict 18 years ago. Jane and I remember arriving at Hartington in pouring rain before the opening time of 5pm, and huddling, cold and wet, in an outhouse in the stableyard. Dormitories were spartan and draughty, and despite the herd of cows mooing at the window, the kitchen provided only powdered milk for breakfast.

How surprised we are to discover the changes here – Hartington Hall is now a 'four-star flagship hostel' – the grandest in Britain - open all day and available for weddings, with a restaurant and alcohol license, a cyber café and games room. The chilly outhouses are now carpeted and centrally-heated ensuite bedrooms.


From Hartington, we plod along muddy lanes between green hillsides dotted with sheep. The dry-stone walls are flecked with the fossilised remains of sea creatures, and we remember that the children were startled to learn that this chilly landscape was once a shallow tropical sea with clear lagoons and coral reefs. Reaching the old Tissington railway track, we squeeze through some narrow stone stiles and join
the High Peak Trail. A unique feature of the Peak District is the way its industrial relics blend with the natural scenery. The region was at the forefront of the industrial revolution and the Derwent valley between Derby and Matlock Bath is now a World Heritage Site celebrating the birth of the factory system in the late 18th century, and in particular Arkwright's famous water-powered cotton mills. The landscape is dotted with derelict lead mines, discarded millstones, old lime kilns, grindstones for sharpening Sheffield steel, and quarries which once produced polished limestone for black marble fireplaces, vases and brooches. The High Peak Railway, built in 1830, was one of the country's first railway lines. Abandoned tracks and silted-up canals now form a network of level trails, perfect for walking.


Longdale is still utterly unspoilt and deserted, a dry valley which winds between gentle and then steep hillsides. Later, we follow the tiny river Bradford through a astonishingly lush valley of dense woodland and marshy jungle. At each turn, another beautiful view opens up.


Youlgreave youth hostel is still in the former Coop, a tall, grey 19th century building with signs saying 'Groceries and Provisions, Draperies and Clothing'. It is closed when we arrive, but we wonder whether girls still sleep in 'Furniture' and boys in 'Bedding'. The kitchen used to be in 'Ladies' Underwear'. Jane and I pop into the tiny post office, and just as we did 18 years ago, we wait for twenty minutes while the postmaster chats to a customer. When he turns his attention to us, he is ready to chat for hours. For southerners, the friendliness of Derbyshire people is astounding and heart-warming.

Each evening we return to the welcome luxury of East Lodge Hotel. Our bedroom has a window etched with lovesick messages from Maud, a daughter of the house who was locked in her bedroom in disgrace after falling pregnant. Now Maud's benevolent ghost watches over guests. The food in the hotel's Terrace Restaurant is superb – rack of lamb and medallions of aged beef from neighbouring farms, and Stilton cheese from Hartington.


On our last afternoon, the sky darkens to indigo, the sun slants across emerald fields, throwing inky shadows which reveal dimples and undulations in the ancient pastures. A few drops of rain fall, and a magnificent rainbow hovers in the dark blue sky. Joining the 4x4s and high heels at the Chatsworth Farm Shop, with its mesmerising cornucopia of fine foods, we buy Dovedale Blue cheese made in Hartington, Chatsworth honey and pickles, and some huge vine-tomatoes which smell as tomatoes should.


Eighteen years ago, our trek ended as we trudged over a 13th century five-arched bridge into the busy market town of Bakewell and – a rare and exciting treat – escaped the rain in a café where we tucked into the town's eponymous tarts. The waitress explained to the children how the pudding was invented by a local cook who poured egg over the jam by mistake, instead of adding it to the pastry. Jane and I have been luckier with the weather this time – no rain, and warm spring sunshine. We haven't had to carry our luggage, cook our own pasta suppers, sleep in dormitories or do chores after breakfast. We have lolled in bubble baths, dined on exquisite food, and slept in warm, comfortable beds, attended by the welcoming ghost of Maud. But we have been accompanied on our walks by six other little ghosts, stamping in puddles, falling over in the mud, chattering, teasing, squabbling and laughing.

First published by the Telegraph
©SarahShuckburgh