A Marriage Happily at Sea
Newhaven-Dieppe Ferry
by Sarah Shuckburgh
Her Norman husband has converted Sarah Shuckburgh to the joys of our oldest Channel route.
My husband Guillaume and I have an unconventional living arrangement - I live in London and he lives on his family's farm in Normandy - thus each conjugal visit involves two solo Channel crossings. As the crow flies, the shortest route from Shepherd's Bush to le Pays de Bray is due south, via Newhaven and Dieppe.

The crow sensibly opts for a dignified and stately sea-crossing, rather than spending hours hunched over a steering wheel, dashing east and then west to cross at the Channel's narrowest point. Guillaume never takes any other route, and I have come to appreciate the quirky charm of the Channel's oldest ferry crossing.


Newhaven is London's nearest sea-port, but the ferry terminal is a ramshackle, semi-derelict hangar surrounded by cracked Tarmac, railway sidings, wasteland and wire netting. French tourists must be dismayed when they land here. The pleasure of the crossing is all at sea.

Last weekend, the sea was grey and choppy, beneath a granite sky streaked with paler cloud. Gannets swooped over the foaming wake which led in a smudged arc back towards Sussex. Gradually, the clouds lifted, and the white cliffs of the Côte d'Albâtre gleamed through the haze. Tiny white sails billowed with the wind as dinghies tack towards home.

Sometimes I head straight for a cabin, strip off and snuggle down between the crisp sheets and sleep for the whole journey, lulled by the murmur and gentle sway of the boat. I am woken by a violent rapping. The bangs get louder and louder until my door vibrates. I think they use a metal hammer to jolt us out of our slumbers. As the ship sidles to the jetty, there's time for a shower before, washed and refreshed, I reclaim my car.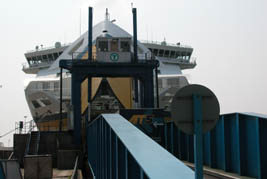 Sometimes I feel like being sociable. Every summer, I meet dwindling bands of Canadian and British veterans and their descendants, heading for the Normandy battlefields and, in particular, Dieppe's pebble beaches. Sixty-five years ago, on August 19 1942, this shoreline saw carnage. More than 3,000 Allied troops were killed and a further 2,000 taken prisoner during Operation Jubilee, a disastrous commando raid.

Few holidaymakers today choose the Newhaven-Dieppe ferry, but for nearly a millennium this route was the most important link between England and France. Dieppe's maritime history started with the Vikings, who gave the harbour its Norse name, "deep".

In 1066, William the Conqueror set sail from Dieppe for Hastings and, for the next 900 years, Dieppe remained the busiest port in the Channel, with traders, travellers and worshippers heading for Santiago di Compostela. (Dieppe gave this pilgrim path its scallop emblem). A regular passenger service started 200 years ago, and by the 1920s crossings took only three-and-a-half hours (quicker than today). Ships docked in the centre of Dieppe and passengers could step off the boat and tuck straight into coquilles Saint Jacques in nearby restaurants.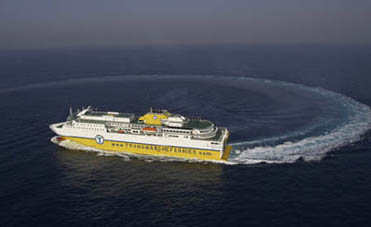 Things started to go wrong for Dieppe as flights became cheaper and the tunnel opened. The docks in Newhaven and Dieppe fell into disrepair and for two years no ferries sailed. Then in 2001 the Seine Maritime local council formed a company, Transmanche, which bought up part of Newhaven docks and reinstated a service.

The two Transmanche ships were second-hand, shabby and lumbering, with five-hour crossings, but Guillaume and I became loyal customers. A two-hour Seacat ran for a time between Dieppe and Newhaven, letting Britons lunch in Dieppe, but the sea was often too rough and the service was dropped.

In the past few weeks, a French shipping company called LD Lines has taken over Transmanche, introducing two spanking-new Spanish-built ships, the Seven Sisters and the Côte d'Albâtre. These ferries cruise at 22 knots and can cross to Dieppe in under four hours, but they are vast - each holding up to 500 cars and 60 lorries. The mouth of the river Ouse at Newhaven is narrow and shallow, so sailing times have to coincide with high tides - sometimes at inconvenient hours. The dock is being dredged, and the situation may improve.

The new ships have ultra-modern stabilisers, 50 cabins with berths, children's play areas, shops, TV lounges, bars and restaurants.

The crossing is never dull. Out on deck one sunny afternoon, I watched as a toddler delved into his mother's bag and offered her the contents - a glove, a diary, a pen, a bunch of keys. His mother and I watched fondly as he practised walking, stumbling a few steps to and from the railing…before throwing the car keys in a gentle arc into the sea.

Arriving in Dieppe, anglers look up from their lines as you chug past the jetty into the calm, dark waters of the port. Perched above the harbour on the limestone cliffs is the church where seafarers' wives once
prayed for their men's safe return. Even on dull days, the light is mesmerising. Turner, Delacroix, Vernet, Monet and Gauguin all painted here, attracted by the luminosity of the alabaster shore.

The ferries now dock outside the old harbour, the massive vessels looking ungainly and out of scale beneath the dainty cliff-top church. A new road cuts through the white cliff, leading lorries up to almost-empty autoroutes leading south to Rouen and Paris, or west to Le Havre and Brittany. But people in the know can still turn right out of the dock and be in a quayside restaurant within minutes, with coquilles Saint Jacques, Neufchâtel cheese, une tarte Normande and a glass of Calvados. Divine.

First published by the Telegraph
©SarahShuckburgh