Beyond the ghosts and reeking mires
Dartmoor
by Sarah Shuckburgh
Sarah Shuckburgh is enchanted by the silence, the unpolluted air and the wild, open moorland of Dartmoor.
Bluebells carpet the moorland hollow, a purple-blue haze shimmering in the dappled sunshine. From gnarled oaks, delicate wisps of yellow lichen dangle – a sure sign that Dartmoor air is unpolluted. Moss covers the ancient stone walls of a farm building, long abandoned. Through the trees, I glimpse a craggy skyline beneath a pale blue sky. It is utterly silent.

I had expected a bleak, forbidding place - a sinister landscape of jagged peaks, barren moorland and dangerous bogs, lashed by wind and rain. In Sir Arthur Conan Doyle's chilling tale of The Hound of the Baskervilles, Dartmoor provides a mean and melancholy setting - 'so vast, so barren and so mysterious'. A giant fire-spitting hound terrorises generations of Baskerville baronets who venture alone on the moor. Conan Doyle's trees are stunted and nipped, and dense swirling fog conceals the convicted murderer, escaped from the high security prison at Princetown. Even the pragmatic Dr Watson finds the bald moor a 'most God-forsaken corner of the world'.

But my friend Jane and I find a benign and beautiful landscape, bathed in spring sunshine.

We are staying at Holne Chase in the lush valley of the river Dart on the eastern edge of Dartmoor. On our first afternoon we walk along the bank of the shallow, glassily-clear river as it rushes over rounded granite boulders. Keen fishermen need go no further – the Dart is famous for its wild brown trout, sea trout and salmon, and Holne Chase provides ghillies on its private 8-mile stretch of the river. That evening, we dine on local fish and on other delicious 'slow food' dishes, made
with ingredients which have travelled an average of only nine miles.

The next morning, we navigate narrow winding lanes, between dry stone walls, and stride over the open moor, through heather, gorse and bracken towards Haytor. From the top, the sense of space and emptiness is startling. The moor stretches in all directions, wild and beautiful, an undulating patchwork of grey, olive and russet. Buzzards wheel overhead, mewing plaintively. Skylarks sing, and we search for their tiny forms in the vast sky.


Haytor granite quarry has been closed for 150 years, but unique granite tram-tracks survive, on which teams of up to 18 horses dragged the quarried stone, some of it destined for London to build St Paul's cathedral and London Bridge. Scrambling over steep slopes sprinkled with sparkling granite clitter, we stumble, just as Sherlock Holmes did, upon deserted gullies and flooded pits - the remains of medieval tin mines, stannaries worked until the 1930s.

Few people live on Dartmoor today, but everywhere there are signs of previous occupants. Sherlock Holmes sheltered in a Neolithic hut while spying out the Baskerville hound – and there are indeed thousands of Bronze Age stone circles and rows, burial chambers, enclosures, cairns and standing stones on Dartmoor, evidence that this area was inhabited from 2500 BC. The settlements were abandoned about two thousand years later, when the climate changed, becoming too cold to grow crops at this altitude.


The moor was farmed again in the 13th century, and many villages today have medieval foundations. The characteristic Dartmoor longhouses were single-storey, thatched buildings where farmers and their animals lived under one roof, with the floor sloping down towards the 'shippon', the cattle end. We find our way to the fascinating ruins of Houndtor hamlet, abandoned in the 15th century and only rediscovered by archaeologists 50 years ago. The walls and roof of wattle, turf and heather have collapsed, but low grass-topped foundations of stone and shingle 'growan' reveal that 800 years ago the hamlet contained four traditional longhouses, four smaller dwellings and three granaries with kilns to dry corn during Dartmoor's cold wet summers. In the longhouses, fireplaces and ovens are still visible, with north-facing alcoves which were perhaps cool larders. Around the hamlet, archaeologists have found evidence of paddocks enclosed with stone corn ditches, and of gardens, lanes, 'arish' fields of ridge and furrow, and strip farming on narrow terraced lynchets. Medieval farmers burned bracken to encourage the growth of grass on this arid land – and the practice of swaling continues to this day.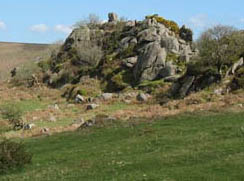 Locals claim that Conan Doyle was inspired to write his Baskerville tale by Houndtor's jagged summit which, with a stretch of the imagination, resembles a pack of hounds, frozen in mid-flight. Jane and I hike over the rough grass and rest beneath a granite crag. We are not alone - five excited children and their impressively agile parents are scrambling over the rocks, searching determinedly among the boulders. We are witnessing the traditional sport of letterboxing – a treasure hunt unique to Dartmoor. As we watch, one of the children spots a mildewed Tupperware box concealed among the crags, and triumphantly pulls out a rubber stamp and a notebook. The family huddles round, pressing the stamp into an ink pad and recording this successful discovery, before putting stamp and notebook back and hiding the box again among the rocks.

We watch lazily as other energetic visitors cycle past us, bumping and skidding over the tussocks. Some even hardier types arrive, festooned with ropes and clanking cams and carabiners, ready to scale a precipitous rock face. Serious hikers stalk past in gaiters and boots, with maps in protective plastic pouches. Dartmoor has been a national park since 1951, but the recent Countryside and Rights of Way Act came into effect here in the summer of 2005, giving walkers increased rights to roam.


From our sunny vantage point, Dartmoor seems welcoming and utterly wholesome, but Jane has been reading about ghosts, piskies, witches, omens and other supernatural occurrences. According to Jane, Dartmoor is the most haunted place in Britain. In the pub at lunchtime, locals confirm in matter-of-fact voices that the devil has dropped into several Dartmoor inns. We hear about ghosts living in Neolithic huts at Lustleigh Cleave, about a pair of disembodied hairy hands which grip reins and steering wheels, causing fatal accidents on the road between Postbridge and Two Bridges, and about the little drummer boy, who froze to death on the moor, and whose eerie percussion has rung out on snowy nights since the Napoleonic wars. Men's screams and the neighing of wounded horses have been heard at Chagford ever since a battle in 1643. And in the pretty village of Widecombe-in-the-Moor, locals tell us about Uncle Tom Cobley, who took his grey mare to Widecombe's autumn fair, with six people clinging to the saddle. Cobley rode the horse to death, and its ghost haunts the moor to this day.


That night, we look out into the darkness and believe all the stories. Even by day, there are perils on Dartmoor - scattered over the moor are patches of bog - innocent-looking with quivering grasses and rushes, but deadly to unsuspecting wanderers. Conan Doyle describes moorland ponies being sucked into the reeking mire, 'rolling and tossing among the green sedges' before disappearing forever. Th
e fiery Baskerville hound is tethered on an island in the middle of an impenetrable mire, and later the Baskerville villain himself disappears, presumed drowned in the 'foul slime of the huge morass'.

Our final walk follows Dr Blackall's Drive, a stony carriageway carved high above the Dart valley by a local doctor for his pleasure rides. Stocky Dartmoor ponies graze nonchalantly as we stride by. We can hear the sound of rushing water, far below in the wooded gorge. All around stretches a jagged skyline of rocky summits – Bel Tor, Sharp Tor, Mel Tor. We walk for several hours, and meet nobody.

Dartmoor is southern Britain's largest area of wilderness - a region of spectacular and contrasting landscapes, from rugged open moorland with rocky tors and steep boulder-strewn slopes, to gentle wooded combes, grassy downs and rolling farmland, with leats and gorges. Read The Hound of the Baskervilles before you visit, and go expecting the 'vast gloom' and ghostliness of Conan Doyle's Dartmoor. The reality will surprise and delight.

First published by the Telegraph
©SarahShuckburgh