Tales from Cornwall's wild side
Bude, Cornwall
by Sarah Shuckburgh
Bude's modest exterior hides a bizarre history involving a dotty vicar and a famous inventor, discovers Sarah Shuckburgh.
I had heard of Gurney stoves, and always assumed that harvest festivals were an ancient tradition, but until this week, I had no idea that both were invented by eccentric Cornishmen living on a remote stretch of the county's wildest and most dramatic shore.


The Cornish have always seen themselves as separate from the English, and the county is indeed almost an island - the sea or the river Tamar surround all but two miles of its borders. For Anglo-Saxons, these two miles, in the parish of Morwenstow, provided an important crossing point, but today they form one of the most beautiful and unspoilt parts of Britain. Here, narrow lanes with high stone walls are dotted with primroses in spring and foxgloves in summer, and lead into steep wooded valleys and over rolling maritime grassland. The coast is rugged and treacherous, with spectacular rock formations - barrel-shaped folds of rock, diagonal strata, zigzag chevron patterns, stripy layers of pale sandstone and dark siltstone.

The Cornish side of my family has farmed on this coast for 200 years, and the non-Cornish side has been coming here on holiday since 1900, but I had no idea that harvest festivals were invented in the 19th century at Morwenstow church. Stephen Hawker arrived in 1834, Morwenstow's first vicar for more than a century. He devoted his life to converting local smugglers, wreckers, looters and dissenters into a congregation of lifesavers, who warned ships away from the rocks, gave drowned sailors Christian burials – and celebrated local harvests.


Parson Hawker was delightfully dotty, dressing in red coat, pink fez and yellow horse-blanket poncho, posing on rocks in mermaid costume, inviting his nine cats to church services (excommunicating them if they moused on a Sunday) and taking his pet pig for walks. He had two happy marriages, at 19 to his 40-year-old godmother, and then at 60 to a girl of 20.

From Morwenstow churchyard and Hawker's turreted rectory, I strolled through a steep-sided valley, gouged during the Ice Age, and joined the coast footpath. Far below me, Atlantic waves churned and crashed against the rocks. Farther out, swirls of glittering blue-green faded to a fuzzy horizon that my Cornish grandmother would say heralds fine weather.

Soon I reached the National Trust's smallest property, Hawker's Hut, perched on a cliff and built entirely of driftwood. Here Hawker composed sermons, watched for shipwrecks and wrote romantic poems such as The Song of the Western Men, now adopted as the Cornish national anthem. He also smoked opium and conversed with Saint Morwenna, the fifth-century princess who built a church with her own hands, and gave her name to the parish.


The next day, the wind got up and the incoming tide looked perfect for surfing. I headed for Bude's beautiful Summerleaze beach with my ancient plywood surfboard. Old-fashioned as my board my look, it is streamlined compared to the coffin-like box on which my grandmother rode the waves before the First World War.

To warm up after my swim, I visited Bude Castle, built on Summerleaze sandhills by Sir Goldsworthy Gurney. Few have heard of this Cornish genius, a contemporary of Parson Hawker (they both died in 1875). To prove that it was possible to build on shifting sand, Gurney designed a castle on a specially-invented concrete base – and it is still standing 178 years later.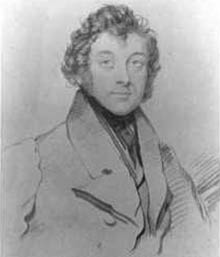 Sir Goldsworthy Gurney was an extraordinary polymath – architect, agriculturalist, surgeon, scientist, pianist and prolific inventor - but he veered between success and bankruptcy, and he regularly failed to gain credit for his inventions. Gurney's oxyhydrogen blowpipe, which produced limelight, was used for theatres by Drummond, and became known as Drummond light. In 1829, his Gurney Drag steam-carriage travelled by road from London to Melksham, averaging 15 miles per hour – the first long-distance steam-powered journey - but the government backed Stephenson's Rocket and imposed crippling road-tolls. Gurney's ingenious plans to ventilate parliament by sucking sewage smells up through Big Ben were never implemented. Gurney's best-known invention during his lifetime was Bude light – a mix of lime and magnesium so bright that one lamp, reflected through prisms and mirrors, illuminated his entire castle. These lights soon lit Trafalgar Square and Pall Mall, and three Bude lights replaced 280 candles in the Houses of Parliament, lasting until electricity was installed 60 years later. Sir Goldsworthy's system of flashing lighthouses is still in use, and his Gurney stoves survive in several cathedrals to this day. Sir Goldsworthy Gurney, knighted in old age by Queen Victoria, invented blastpipes, steam engines, mine ventilation, fire extinguishers, musical instruments, heating, lighthouse flashes, electric telegraph and theatrical limelight, but was never in the limelight himself.

Next, I explored the Bude Canal, which has been dredged and restored to make a lovely inland walk. Away from the wild coast, Bude's hinterland is calm and peaceful. Sir Goldsworthy contributed to early designs for the canal, a revolutionary project to link the Bristol and English Channels via the river Tamar. The canal never reached the Tamar's navigable stretches, but was a superb feat of engineering with sea locks and basins, a breakwater to protect the canal from the sea, and six sloping stretches of canal powered with steam and a unique system of counterbalanced buckets, each containing 15 tons of water. Today, the canal's nature reserve contains Cornwall's largest reed beds, home to otters, dormice, and a host of rare birds and plants. Much of the surrounding countryside is designated as an Area of Outstanding Natural Beauty.

While Parson Hawker and Goldsworthy Gurney were living their extraordinary lives, and my Cornish relations were farming, Bude turned from a fishing harbour and small port into a fashionable Victorian seaside resort. In 1847, Tennyson visited this romantic Watering Place of the West and was inspired to write his Cornish Idylls of the King. Later, the Atlantic Coast Express railway brought my non-Cornish relations and other well-heeled visitors direct from London, and Bude's attractions included a sea pool, art deco cinema, three golf courses, and a series of huge hotels.

However, Bude's economic decline had begun, with agricultural depression, the First World War, mass emigration to the New World, and, in the 1930s, the closure of the canal, lifeboat station and port. A final blow came with the closure of the railway, in 1966.


Bude today may have lost its classy clientele, but it is a friendly, low-key little town filled with the mouthwatering aroma of hot pasties. Summerleaze beach is a beautiful sweep of fine sand, with fishing boats pulled up on the tideline, children playing with buckets and spades, and wet-suited surfers riding the rolling waves.

As gulls squawked overhead, I wandered past whitewashed cottages with grey slate roofs, along modest terraces of pebbledash and palm trees, and into small locally-owned shops. I stopped for elevenses at the Falcon Hotel, established in 1798 as an inn for sea captains. The waitress confided proudly that Tennyson broke his ankle here in 1847.

Chapel Rock, on the harbour breakwater, is all that remains from the days when Bude was just a chapel on a rock, where a bede, or holy man, lit lamps to guide ships in from Cornwall's wildest and most treacherous coast. But today the town is taking renewed pride in its unique cultural and natural heritage.

Sir Goldsworthy Gurney's eccentric castle-built-on-sand has been restored, and now houses an excellent museum, and a restaurant where I had lunch. Over coffee, I read one of Parson Hawker's bloodthirsty ballads - Croon from Hennacliff - about shipwrecked bodies washing up at Bude. The next time I go to a harvest festival, or visit a warm cathedral, I shall remember these two inspired Cornishmen, and the beautiful landscape that was their home.

First published by the Telegraph
©SarahShuckburgh