The Secrets of Bletchley Park, Woburn and Stowe
Buckinghamshire
by Sarah Shuckburgh
A tour of a wartime code-breakers' HQ, a private safari and a stay on a country estate – three great ideas for a spring weekend in the UK, says Sarah Shuckburgh.
Several times a year, my sister and I spend a weekend away with our octogenarian parents. We have travelled far and wide together, but our recent excursion to Bletchley Park, Woburn and Stowe was our most successful jaunt ever.

We were joined for our day at Bletchley Park by two uncles, aged 93 and 95. They and my parents all had wartime memories of Bletchley, and had friends among the 12,000 who worked there.


War was declared within days of my father arriving as an undergraduate at King's College, Cambridge, and he soon gathered that many King's classicists, historians, linguists and mathematicians – including the eccentric and brilliant Alan Turing - were working at Bletchley Park. But everyone knew not to ask questions. Even long after the war, the work was kept completely secret, and no official recognition was ever given to the Bletchley boffins whose incredible intellects secured the Allied victory.


Our guide introduced us to the famous Enigma machine, which encrypted tactical messages using codes that the Germans assumed were unbreakable. The machines were the size of old-fashioned typewriters, with drums, cogs, leads and lights providing a staggering 158 million million million possible combinations of letters – codes which were changed each day. Turing's 'bombe' machines, which deciphered Enigma messages, looked like large wardrobes, with dozens of dials on the front, and tangles of plaited cables festooned across the back. The cryptologists took advantage of minor lapses by German encryptors, such as repeated messages, stylised weather reports, messages prefaced with formal greetings, or the use of swearwords to set the drums. In order to conceal the extent of the Bletchley operation, Churchill never acted solely on decoded intelligence, but when complex navy ciphers were cracked, the Allies were able to intercept U-boat wolf packs.


My uncle Wilfrid was captured and imprisoned by the Japanese in 1942, and was interested to learn how Japanese pictograms were encrypted and decoded. Classics scholars, accustomed to tackling tricky 'unseens', were given intensive 6-week courses in Japanese before starting work interpreting messages.

My other uncle, Theophilus, became friends after the war with a fellow mathematician called Tutte. They never spoke about it, but my uncle suspected that Tutte had been a wartime code-breaker. Our guide became very excited – Bill Tutte was a star cryptologist at Bletchley, and his famous Tunny machine, which decoded strategic messages from the German high command, was on display in one of the huts. Tutte's leaps of intuition contributed to the development in 1944 of the Colossus, the world's first digital computer – a massive 2500-valve machine which could process 5000 units per second. Intelligence gleaned via the Colossus confirmed that Hitler didn't foresee the D-Day landings in Normandy. By 1945, there were ten Colossus machines in action, but to preserve the secret, they were all destroyed after the war. We peered through a window at a working model, assembled in 1994 in its original position. Wrens, billeted in cold, damp lodgings, used to dry their laundry around it.


My mother remembered that wartime trains between Oxford and Cambridge always stopped at Bletchley, and while hundreds of highly-educated passengers disembarked and embarked there were sometimes spontaneous concerts on the platform. She said that everyone knew that something important was going on there, but nobody said anything. Workers often knew little apart from their own small roles, and the Official Secrets Act bound them never to talk. Husbands didn't tell wives, wives didn't tell husbands. A family friend, Diana Payne, longed to tell her parents about her work on Turing's 'bombes', but she remained silent for 30 years, and her parents died believing that she had achieved nothing as a Wren.


The next day, we visited Woburn, where hundreds of Bletchley Wrens were billeted. We spent the morning at the safari park set up by the 13th Duke of Bedford, who inherited the dilapidated estate after the war. Most visitors to the safari park bring children, and drive themselves on the tarmac circuit. We took the VIP option – driving off-road in a landrover with our own ranger. Although we had all been on 'real' safaris abroad, this was a thrilling two-hour tour. As we drove slowly up to Przewalski's horses (reintroduced after becoming extinct in the wild), auburn-coated bongos, scimitar-horned onyx and two species of zebra, our guide, Bob, told us how he grew up in India, one of eight children of missionary parents.


We disembarked to pat two female elephants, and watched as they plodded off towards their pasture, one trunk linked companionably into the other's tail. Leaning out of the jeep, we touched the mud-caked, leathery skin of white rhinos as they trotted on incongruously dainty legs. A scraggy Canadian timber wolf watched us with yellow eyes. "Much maligned, wolves", said Bob. "Never been known to kill a human." Two feet above us a black bear sprawled in a fork of a tree. "We don't go too close to dangerous animals," joked Bob, as we parked within a yard of three Siberian tigers, their thick coats gleaming with health. "They eat a hundred pounds of meat at a go. That's like us eating 150 hamburgers."


Our vehicle lurched up a steep slope to join a pride of lions, lounging in the sun – two craggy-faced old brothers, surrounded by females and year-old cubs, their young bellies still spotted. Suddenly, inches from my half-open window, a lioness leapt up to chase a rabbit. Bob pointed to a handsome young lion, his mane just beginning to grow. "He's plotting a takeover."


While other visitors made for the crowded cafeterias and 'walkabout' area, we drove through Woburn's verdant deer park – where ten species of deer graze on 3000 acres - to the Flying Duchess café, named after the plucky wife of the 11th Duke of Bedford, who took up aviation at the age of 60. My mother, an avid fan of the BBC Country House series on Woburn, recognised the 15th Duke as he walked by, and was full of stories about under-butlers, deer keepers and Lady T's customised coffin.


After lunch, we toured the house with a private guide. Through a series of family portraits, we followed the history of Woburn, beginning with the 12th century Cistercian abbey which Henry VIII left in his will to the first Earl of Bedford, and continuing through 20 generations. A series of advantageous marriages made the family immensely rich, and Woburn contains one of England's finest private art collections, including 24 Canalettos, purchased from the artist's studio. The estate once stretched through East Anglia as far as the Wash, and also included 100 acres of London. Owning Covent Garden gave the family a monopoly on providing Londoners with fruit and vegetables. During the war, the house fell into disrepair but in 1953, the new Duke knocked down the dampest, most rotten wings, and restored the rest. Woburn was one of the first stately homes to welcome visitors.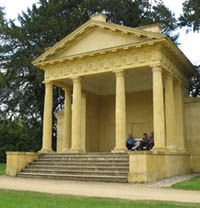 Afternoon tea was invented at Woburn, by Duchess Anna Maria, wife of the 7th Duke. So, to continue the tradition, we returned to the Flying Duchess café and ate homemade cakes and biscuits before returning for a second night at the Inn at Woburn.

On Sunday, we filled our thermoses with coffee and drove to Stowe, stopping at the National Trust shop to buy a picnic. Unlike the nature-loving Dukes of Bedford, Lord Cobham was a politician, and his gardens make political statements – with statues of eminent Whigs, royalty and other influential friends. It was a perfect summer's day, and we spent several hours ambling through grassy valleys and copses, through flower-filled meadows, around lakes, over bridges and past fountains and waterfalls, stopping to admire each vista towards pavilion, urn, statue, arch, obelisk or temple. Capability Brown was head gardener here before his career as landscaper began. We ate our picnic lunch sitting in one of Vanbrugh's twin temples, looking across the Octagonal Lake (no longer eight-sided but still retaining the name of its earlier, more formal design). Beyond, the south façade of Stowe House, designed by Adam, glowed like gold in the afternoon sunshine. Then we drove home - in time for the 7th Duchess of Bedford's favourite meal.


The Inn at Woburn www.theinnatwoburn.co.uk
Bletchley Park www.bletchleypark.org.uk
Woburn Safari Park www.woburnsafari.co.uk
Woburn Abbey www.woburnabbey.co.uk
Stowe Landscape Gardens www.nationaltrust.org.uk

First published by the Telegraph
©SarahShuckburgh