Passion and the Penitents on Parade
Seville
by Sarah Shuckburgh
Seville welcomes its Easter festival - Semana Santa - with noisy enthusiasm, reports Sarah Shuckburgh.
Seville's Semana Santa must be one of the world's most impressive and surreal pageants. Throughout Holy Week, brass bands play sombre dirges as gigantic floats are lugged through the city, accompanied by many thousands of penitents in floor-length robes and conical headdresses. This startling spectacle dates from the 13th century, and Seville's 58 cofradías - religious brotherhoods - maintain the medieval tradition with extraordinary flamboyance and devotion.


I am staying in the Barrio de Santa Cruz, a bewildering labyrinth of tiny streets, mostly too narrow for traffic. On my first afternoon I venture out, hoping to visit the Casa de Pilatos, but immediately get lost. The alleys curve in unexpected directions, and my map is no help, with few street-names, and north not at the top of the page. Semana Santa makes navigation even more confusing and exciting.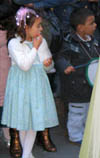 Every street throngs with Sevillanos dressed in their Sunday best, the adults immaculate in tailored suits and polished leather shoes. Little girls wear velvet-collared coats of pale blue or pink, with exactly matching tights, shoes and hair-ribbons; their brothers wear old-fashioned shorts, with co-ordinated socks and jerseys. I haven't seen such neat partings in such well-oiled hair since the 1950s.


The crowds are huge – most of Seville's 1.3 million inhabitants must be here - but the atmosphere is calm and good natured. Some have brought deck-chairs, others crouch on kerbs during the long wait. Families lean from festively-draped balconies. Everyone is nibbling sunflower seeds, discarding husks on the cobbles. Suddenly, all heads swing towards the street corner as a phalanx of Nazarenos shuffles slowly into view. They make an extraordinary sight. The penitents are identically clad in floor-length tunics and capes of shiny blue satin, with conical capirote hoods covering their faces. These are the concealing robes that were adopted by the Ku Klux Klan, but during Seman
a Santa there is nothing sinister about the anonymous forms. Even toddlers and babies in prams are dressed in miniature costumes, although some of the youngest have the visors fastened back with safety pins. The pace of the procession is so slow as to be almost stationary. The eerie silence is broken only by children banging tin drums. Cassocks billow in the breeze as eyes peer from roughly-cut holes in the sheeted cones. Some Nazarenos are fingering rosaries or small crucifixes which dangle from woven girdles. Some carry tall candles, others hold banners, maces or gigantic wooden crosses. Most penitents, old and young, wear pale leather sandals, but many are barefoot, and a few stumble along with feet shackled and chained.


Spectators hold out their hands, and pilgrims reach into deep pockets to bring out prayer cards or sweets. Glimpses of bifocal glasses and wristwatches are sudden reminders that this is the 21st century. Hundreds or perhaps thousands of sky-blue conical heads inch past us before we hear distant drums beating a mournful largo. Gradually, the percussion becomes ear-splittingly loud, echoing through the canyon-like street, and sending shivers down my spine. BANG pause BANG pause BANG BANG BANG. Soon, the stirring sounds of a brass band reach us, and eventually slow-footed parish musicians approach, uniformed and solemn, playing funereal hymns and marchas in plaintive minor keys. Several trumpeters manage to smoke as they play, cigarettes clamped between two fingers, ready to puff during every pause. In the wake of the band, agonisingly slowly, flows another river of faceless blue hoods. At the edge of the crowd, stocky young men loiter, distinctive in black cotton trousers and plimsolls, with folded towels draped over their heads. These costaleros – sackmen - draw admiring glances as they smoke, flex their muscles and tighten their weight-lifters' corsets. Now, thrillingly, th
e first paso appears at the end of the street and there is a burst of applause. The vast platform supports a vast and glittering tableau, in which a dozen life-size wooden saints are shaded by the quivering fronds of a copse of twenty-foot palm trees. The float, weighing more than a ton, lurches alarmingly with each rhythmic thump of the cornermen's staves on the cobbles.


Just visible beneath the shimmering swags of the valance are dozens of black plimsolls – 120 sackmen are sweating under the load. The costaleros practise throughout the year to perfect the swaying shuffle that moves these immense structures. Leaving the ocean of turquoise penitents, I weave through a maze of alleys, staring in vain at my map. At every corner, pointed headdresses of other fraternities loom like strange moving landscapes – a mass of swaying purple spikes, then hundreds of white pointed stalagmites, later a jagged skyline of black peaks, or a bobbing forest of green velvet conifers. I am still looking for the Casa de Pilatos, but instead I happen upon a fascinating flamenco museum. Imaginative displays point to flamenco's diverse roots in Asia, Africa, Egypt and Greece, and illustrate the passion with which Andalucian dancers express grief and joy, solitude and seduction, power, grace, nostalgia, loss and death. Film clips show young men strutting and stamping with arched backs and greasy curls; mature, curvy women dance with ruffled skirts and haughty looks, clacking castanets and clapping in unfathomably syncopated rhythms. Back in the jostling streets, there's still no sign of the Casa de Pilatos, but I find my way to the imposing Alcazar palace. In these stately rooms, Spanish kings were born and married, and plans were made to explore and administer the New World. Courtyards, some dating back to 1409, link a series of huge, airy apartments, the exquisite mudéjar decoration blending Christian and Islamic architecture. The gardens are cool and restful, with sandy paths between mature trees, and shady gazebos overlooking pools and fountains.


By now I'm getting thirsty, but luckily the Barrio de Santa Cruz is packed with irresistible tapas bars. Hams dangle from every ceiling, dripping fat into artfully positioned paper cones. Posters of bullfighters and old photographs cover tiled walls, between teetering racks of bottles. There is more drinking than eating in these bars – indeed tapa comes from the word 'tapadera', a thin cover of meat or cheese to keep the dust out of your glass of wine.

Later, at Modesto's crowded restaurant, I tuck into cola de toro, an alarming-sounding but deliciously rich local speciality (bull's tail) followed by tocino de cielo (heavenly bacon pudding). Cigars were invented in Seville, and the menu lists 24 types, each one elaborately described.

By now it is 11pm, but families with young children are still streaming into Modesto's, and the streets are still packed with hooded processions. I push through the
pilgrims and head for a cobbled street near the river. El Arenal's flamenco programme is aimed at tourists, but it is a marvellous show – 90 minutes of music and dance with three guitarists, three singers, seven dancers and countless changes of costume. One dance is accompanied only by castanets, another by a trio of clapping musicians, their oily locks drooping over furrowed brows. As I try to remember the way back to my hotel, I come upon another snail-like throng. These penitents are clad in crimson, with trains tucked into woven belts. Beyond, a paso hoves into view – it is a kitsch masterpiece, with a life-size sculpture of the grief-stricken Virgin, with sparkly halo and crinoline. Her canopied throne is festooned with plast
ic garlands, glittering swags and tassels and golden filigree. Spectators weep, cry out and applaud. As the massive tableau lumbers by, the clapping stops and the silence is punctuated only by the staves' dramatic thuds on the cobbles. High above us, a tear seems to roll down the Virgin's flawless face, and her lace veil flutters in the breeze. Suddenly a poignant song rings out – the saeta is an improvised lament, as piercing and heart-rending as an arrow. This lone voice provokes renewed sobs and applause, and I find I have a lump in my throat. The next morning, I pass a parish church and glimpse through its open doors three huge, ornate floats, safely stowed. A group of weary penitents heads for home, some of them young children, still wearing conical hoods and robes. Turning my map around, I finally work out which way is north, and I find the elusive Casa de Pilatos - a lovely house dating from the early 16th century, with cool tiled rooms, painted ceilings and verdant courtyards. The guide asks me whether I am enjoying the Semana Santa. "You should return in two weeks," she says, "For the Feria de Abril. It is much more impressive."

Kirker Holidays: www.kirkerholidays.com

First published by the Telegraph
©SarahShuckburgh