An island within an island in Sicily's mountainous heart.
Sicily: the Madonie Mountains
by Sarah Shuckburgh
Art, beaches, lovely villages, fine food – the Madonie has it all, says Sarah Shuckburgh
On a map of Europe, Sicily looks very small. I naively expected to see the whole island in a week. But the largest island in the Mediterranean is packed with fascinations. You'd need months to see everything. My husband and I rented a villa in the foothills of the Madonie mountains, 45 miles east of Palermo, and, apart from a day trip to the capital, we happily spent the entire week exploring these utterly unspoilt hills.

Much of Sicily was deforested by the Romans, but the Madonie's 40,000 hectares remain a verdant paradise. The mountains rise from Mediterranean coastal terrain, through temperate woodland of cork and holm oak, beech, myrtle and broom, and higher, through cooler mixed
forests of holly, elm, mountain maple and wild service, to the craggy slopes of Pizzo Carbonara - at 1979 meters, Sicily's second highest peak (after Etna). Throughout the Madonie, medieval villages cling to precipitous hillsides, and the ruins of 12th-century fortresses flank deep river gorges. This enchanting and little-visited 'island within an island' was declared a National Park in 1989.

Each day, we drove in a different direction – along narrow winding roads through dramatic and varied landscapes, with views back to the shimmering Tyrrhenian Sea. Millions of years of volcanic upheavals have culminated in extraordinary chasms and cliffs, jagged outcrops, lush meadows, and dense woods where foxes, martens, weasels and porcupines live undisturbed.


With a hiking map from the Castelbuono tourist office, we followed paths of chalk or red earth, scuffed by wild boar, and scattered with porcupine quills. Lizards stared from sun-baked rocks, hares lollopped by, sheep and goats grazed in sunny meadows.

The mountain villages are breathtaking – built on vertiginous slopes, tiny streets and alleys are lined with tall, slim houses; stone steps lead through archways to Moorish courtyards. Laundry hangs from iron balconies. Housewives emerge to sweep doorsteps or to hang rubbish bags above the reach of dogs. Old men in flat caps rest on stone benches. In each village, the bells of half a dozen churches chime the hours.


Few tourists visit these workaday communities, and locals shyly avoided our gaze. But when we offered a tentative 'buon giorno' or 'buona sera', their faces lit up with a warm welcome, eager for a chat.

Collesano, like most other villages in the Madonie, combines medieval Moorish architecture with a ruined Norman fortress. The village huddles beneath a grey-green mountainside, the imposing remains of its castle overlooking a jumble of houses. From here, a wonderful three-hour walk took us through meadows, vineyards and sun-dappled woods of gnarled oaks. We tramped over carpets of cyclamens, orchids, anemones and wild peonies, and paused on rocky outcrops to listen to distant sheep-bells, or watch soaring eagles and peregrine falcons. Passing a ruined Norman monastery in a lush valley, we trudged up an ancient cobbled path to Gratteri, perched on a high col between massive grey crags. This tiny village boasts seven churches, including one housing four thorns from Jesus' crown and a fragment of the True Cross.


Another day we walked to Isnello, with its maze of 14th-century cobbled alleys, peeling stucco in muted pinks, creams and greys, higgledy-piggledy roofs of curved terracotta and grey tiles, and front doors painted deep green to mirror the vistas of forest beyond.

The beautiful town of Cefalů, where the Madonie mountains meet the sea, is a spectacular Arab-Norman mix. In Sicily's Golden Age, Frankish rulers restored Christianity, but respected Arab architecture and culture, allowing Saracens to retain land and practice Islam. In 1131, the Norman king Roger II (who wore Arab robes) commissioned Cefalů's cathedral - an astonishing masterpiece of Sicilian Romanesque, austere stone fortress outside and glittering Byzantine mosaics within.


The traditional cuisine of the Madonie mountains provides another reason to linger – mouthwatering swordfish roulade with aubergine, succulent stewed kid, and delicious pasta con le sarde - local sardines with pine nuts, anchovies, raisins and hedgerow fennel. The strong mountain cheeses are shaped by the sacks in which they hang to be smoked. We drank amber-coloured white wine, translucent red, and fortified Marsala. We tried ricotta-filled cakes, moist almond and pistachio biscuits, Arab sherbets and granitas, and manna cakes – bread of heaven – made from a pale sap harvested from the forests of flowering ash around Castelbuono.

Each evening, sheep bells blended with evening birdsong, as the shadows lengthened across undulating farmland crisscrossed with pale earth tracks. From our villa, we watched as the jagged mountains darkened and orange lights started to twinkle on Termine Imerese's jetties and chimneys along the coast. And we would agree that the next day, once again, there would be nowhere better to explore than the captivating Madonie mountains.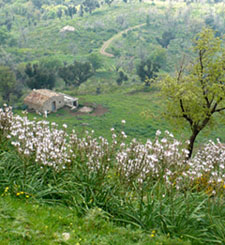 When to Go

Spring and autumn are ideal, to avoid blistering summer heat and crowds, and winter chill (unless you want to ski on Pizzo Carbonara).

What to Bring Home

- Manna-cakes and manna-sweets from Castebuono
- Strong-smelling Madonie mountain cheese
- Mountain hams and sausages
- Traditional handmade ceramics by Iachetta, in the main street of
Collesano
- Local wine, including white wine, fermented in the cool mountain air
and fortified Marsala wine
- Folklore puppets from Cefalů
- Cefalů also has gourmet delis with local hams, cheeses, olive oil, etc

What to Avoid

- Don't try to see the whole of Sicily…. It's huge
- Avoid driving into Palermo on Saturday afternoons, unless you want to get caught in the shopping traffic.
- Avoid going to the beach on a Sunday in July or August. Go during the week instead.
- Avoid going anywhere by car on the day of the classic Targa Florio car race (September 26th and October 2nd)
- Don't expect to find restaurants ready to serve supper at 6pm. Sicilians eat later.
First published by the Telegraph
©SarahShuckburgh