Following in the Footsteps of Aphrodite
Greek Cyprus
by Sarah Shuckburgh
Steer clear of the tourists and take a nature trail through Cyprus's breathtaking cliffs, gorges, coves and beaches, says Sarah Shuckburgh.
This is the Cyprus that locals know and love - small, family-run hotels with home-cooked food, forest trails, empty beaches, dips in the warm Mediterranean, spectacular rosy sunsets, and cool, quiet nights with pitch-black skies.

From Larnaca airport, we whizzed westwards on a dual carriageway, past the sprawling resort of Lemesos, past thousands of hideous villas, perched on barren roadside plots, and bristling with rods to hold extra storeys. The building frenzy has covered much of Cyprus's southern shore with concrete but we were heading for the hinterland, which remains unexploited and beautiful.

In the quiet village of Lysos, dogs snooze in the middle of the road, reluctantly heaving themselves up if a car approaches. The village lies on t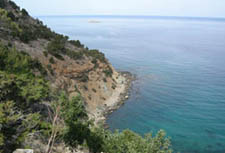 he edge of the vast uninhabited Pafos forest, and, looking the other way, has stunning views over steep wooded valleys to the sea. Andreas Demetriou discovered these paradise hills half a century ago when he married a Lysos girl, and for years he dreamt of building a hotel here. While he waited for planning permission, he often slept out, under an ancient oak. Alas, days before the license was granted, Andreas died. His seven surviving children pledged to fulfil his dream, and three years ago, the Paradisos Hills Hotel opened, built in traditional stone according to Andreas's plans, beside his favourite oak tree. Two of his daughters, Niki and Sulla, run the hotel, but on Sundays, when Cypriots come from far and wide to enjoy the famous 30-course lunch, Andreas's other children, grandchildren and great-grandchildren len
d a hand.

We were welcomed as if we were part of the family. Niki produced wonderful Levantine meals - Cyprus plates of haloumi cheese, dolmades, olives, lountza smoked ham, skordalia potato, and tomatoes tasting as tomatoes should. Next came souflakia, moussaka, kleftiko or syngrida, and then kataifi and other syrup-covered pastries.

On our first day, we drove through the ancient town of Polis, past estate agents and property companies, past hoardings advertising luxury villas and apartments, past plots crammed with half-built concrete skeletons, to the welcome wilderness of the Akamas peninsula - the unspoilt western tip of Cyprus. From the car park, we followed a coach load of tourists to the Baths of Aphrodite, where Cyprus's most famous goddess met her lover, Adonis. The grotto is pretty, with a splashing waterfall and an ancient fig tree, but the plump, lobster-pink Brits did not resemble Greek gods. As they returned to their coach, we explored the peninsula on foot.


Named after Akamantas, an Athenian warrior who came here after the Trojan War, this is a breathtaking landscape of cliffs, gorges, woods, maquis scrub, shingle coves and tiny islands. We followed the 3-hour Aphrodite nature trail - a rutted, sandy track with dazzling views through clumps of juniper and wild olive to the blue-green sea far below. Large agamid lizards cocked their angular heads as they strutted by. Long, blackened pods dangled from evergreen carob trees. We tried chewing them for their chocolaty taste, spitting out seeds which are of such uniform size that they were once used to measure the weight of gold. This dramatic peninsula is soon to be designated a National Park, with, I hope, a ban on 4x4 vehicles and motorbikes - the only disturbance in an otherwise idyllic spot.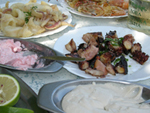 Autumn and spring are perfect seasons for walking in Cyprus, but after our hike we were dusty and starving. Five minutes' drive brought us to the shady taverna on Aphrodite beach, and here we lunched on kalamari, whitebait, crabs, houmous, beetroot salad and tiny wild olives, as the sea lapped at our feet. We drank village wine and small cups of finely ground Cyprus coffee. Then we lolled on the sand and swam in the warm sea. On quiet beaches such as this one, away from the neon lights of resorts, green and loggerhead turtles live and lay their eggs.


The next day, we drove inland. The Pafos forest contains some of the most spectacular scenery in Cyprus, and we wound through steep valleys between bare-topped ridges, with rivers gushing far below. We looked for wild moufflons – elusive, curly-horned mountain sheep endemic to Cyprus - but spotted them only in a wooded enclosure where a flock live in captivity.

The long-distance European footpath E4 winds through Cyprus, starting with the Akamas peninsula, and we joined it again in Cedar Valley, a lush area with the island's own species of cedar. We were greeted warmly by a family having a picnic breakfast under the trees – six children, three black-clad women, four moustachioed men, and a chain-smoking Orthodox priest. Leaving them to their tomatoes, haloumi and bread, we followed a stony trail gently uphill for about an hour. Immense vistas opened up at each turn. The path was carpeted with russet pine needles, and dotted with clumps of wild cyclamen, each white flower the size of a fingernail. At the top of Tripylos mountain, we were rewarded with awe-inspiring views in every direction and glimpses of the glittering sea. No concrete in sight.


Driving on, we entered the wild Tirrilia region, a stark, empty landscape of grey-green and auburn, with pale pines on bone dry hillsides of red earth. The road wound up and up, and then down and down. As we neared the sea, we passed abandoned farms – this time not half-built, but half-ruined. We reached Pommos at lunchtime, and, settling at a breezy table at the Kannalli restaurant, we treated ourselves to its Famous Fish Mezedes – a daunting menu of mussels, octopus, cuttlefish, giant shrimps, squid, crabs, picarel and sea bream, with taramasalata, tahini, olives, salad, bread… and chips.

After three days, we moved on to Kakopetria, in the Troodos mountains. The Linos Inn consists of imaginatively restored medieval houses, some with valley views, four-poster beds or log fires. Our room resembled a small, low cave, with thick walls of dark stone, mud and straw and one tiny window - authentically medieval apart from the bathroom, air-conditioning, electric lights, TV, radio and kettle.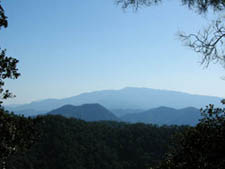 This is a region renowned for its almonds, quinces, walnuts, hazelnuts and cherries, and bottled fruit is a speciality. The Troodos mountain range is also famous for its painted churches – tiny Orthodox chapels built between the 11th and 16th century as refuges from Roman Catholicism, decorated inside with Byzantine frescoes. Ten churches are designated UNESCO World Heritage Sites, and we visited several, phoning caretakers to unlock doors and shine their torches at the crumbling but still vibrant paintings.

We found several lovely trails on the slopes of Mount Olympus, which gave fantastic views with a minimum of climbing. We followed the circular Artemis Trail, near the summit – a panoramic path at almost 2000 meters. The next day, we tackled the Atalante Trail at a lower altitude, through gorse, wild plum trees, golden oaks, massive black pines 500 years old, and knarled juniper trees with purple berries. The stony soil was like a patchwork of warm ochre, pink, orange and beige, laced with prickly creepers and hardy rock plants.


On our last day, we walked to the Kalidonia waterfall, crisscrossing the noisy stream on stepping stones. Sunlight filtered through oriental plane and alder leaves, and a double rainbow glistened in the cascade. Below the waterfall, we reached the Psilo Dendro restaurant and trout farm, and tucked into delicious rainbow trout.

A week of walking, eating, drinking, swimming and gazing at unspoilt landscapes had worked its magic. We had bathed on peaceful beaches where turtles lay and hatch their eggs. We had walked through hills where moufflons live, undisturbed. We had enjoyed warm, sunny days and cool nights. We hardly noticed the acres of reinforced concrete as we drove back to the airport.

Sarah travelled with Sunvil Holidays www.sunvil.co.uk
First published by the Telegraph
©SarahShuckburgh