Bush Poetry
Ku-ring-gai Chase National Park, New South Wales
by Sarah Shuckburgh
Sarah Shuckburgh's visit to Ku-ring-gai Chase National Park is accompanied by a heritage of verse.
Calm fjord-like inlets shimmer between densely wooded peninsulars. The peaceful Ku-ring-gai Chase National Park is little visited, although its 60 miles of shoreline begin only 15 miles from Sydney city centre.

My guide is Derek, who arrived in Australia in the 1970s as a Ten Pound Pom, and who now, in his Akubra hat and Drizabone coat, exudes the relaxed charm of his adopted country. He says "g'day" to all passersby and is an authority on wild life, indigenous culture, and Australian poetry. Our walkabout combines driving and strolling, and as we set off through heath and open scrub, Derek recites a famous poem by Dorothy McKellar comparing the England of her birth ( e1033brown streams and soft, dim skies) with her adopted homeland, Australia:

I love a sunburnt country,
A land of sweeping plains,
Of rugged mountain ranges,
Of droughts and flooding rains.
I love her far horizons,
I love her jewel sea,
Her beauty and her terror -
The wide brown land for me.

The stark white ring barked forests
All tragic to the moon,
The sapphire-misted mountains,
The hot gold hush of noon.
Green tangle of the brushes
Where the lianas co il,
And orchids deck the tree-tops
And ferns the warm dark soil.

Derek leads me through a green tangle where lianas coil, and shows me aborigine engravings carved into the ground - drawings of whales, fish, wallabies and mythical characters, and of symbols of fertility and initiation. Here boys' teeth were knocked out to signal manhood, and here ochre was mixed to daub bodies. As we gaze at the ancient stones, we discuss the economic and social exclusion experienced by many native Australians today. Derek quotes Aborigine poet Oodgeroo Noonuccal:


Aborigine man, you walked with pride,
And painted with joy the countryside....
But vain the honour and tributes paid,
For you strangled in rules the white man made:
You broke no law of your own wild clan
Which says, "Share all with your fellow man."

At each bend in the road, a spectacular view appears of yet another creek or wooded hillside. The distinctive banksia trees are a cue for Derek to tell me about the classic children's stories by May Gibbs, set in the bush, in which Gumnut Children are terrorised by evil Banksia Men. He knows these tales off by heart too, and narrates them, as he did to his children when they were young, using lots of different voices.

We have a delicious lunch of local fish at Cottage Point Inn, gazing out across Cowan Water and the vast uninhabited ridges beyond, shimmering in the winter sun. Derek recites a long and charming ballad by Noonuccal about a snake which is revered by her father but feared by the children.

My father was Noonuccal man and kept old tribal way,
His totem was the Carpet Snake, whom none must ever slay.
But mother was of Peewee clan, and loudly she expressed
The daring view that carpet snakes were nothing but a pest.

On her father's death, the snake mysteriously disappears.

When father died we wailed and cried, our grief was deep and sore,
And strange to say, from that sad day the snake was seen no more.
The wise old men explained to us; "It was his tribal brother,
And that is why it done a guy" - but some looked hard at mother.

She seemed to have a secret smile, her eyes were smug and wary,
She looked as innocent as the cat that ate the pet canary.
We never knew, but anyhow (to end this tragic rhyme)
I think we all had snake for tea one day about that time.


We walk off our large lunch by following a track round West Head - down past exquisite secluded beaches, and up to the West Head lookout, where an astounding and glittering panorama opens up across Broken Bay and past Barrenjoey Head to the ocean beyond. On the way back, we pause at a cave daubed with aboriginal hand prints, made by blowing a spray of ochre.

"Here's another poem by Noonuccal," says Derek.

My son, your troubled eyes search mine,
Puzz led and hurt by the colour line.
Your black skin as soft as velvet shine;
What can I tell you, son of mine?

I could tell you of heartbreak, hatred blind,
I could tell of crimes that shame mankind,
Of brutal wrong and deeds malign,
Of rape and murder, son of mine;

But I'll tell instead of brave and fine
When lives of black and white entwine,
And men in brotherhood combine -
This would I tell you, son of mine.

As we drive back to the city centre, Derek recites a comic ballad of Banjo Paterson's, in which a bearded bushman from upcountry arrives among flashy clean-shaven Sydney folk.

It was the man from Ironbark who struck the Sydney town,
He wandered over street and park, he w andered up and down.
He loitered here, he loitered there, till he was like to drop,
Until at last in sheer despair he sought a barber's shop.
"Ere! Shave my beard and whiskers off, I'll be a man of mark.
I'll go and do the Sydney toff up home in Ironbark."

We cross the harbour bridge in the gathering dusk, and the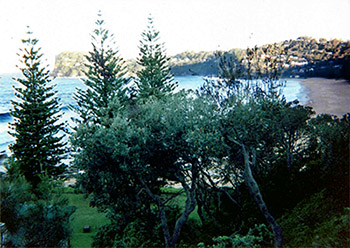 contrast between wild, ancient bush and the bright lights of the city seems as marked as in the Banjo's verse.

Like his compatriot, Dorothea Mackellar, Derek has chosen Australia as his home, and he leaves me with a final stanza:

An opal-hearted country,
A wilful lavish land -
All you who have not loved her,
You will not understand.
Though earth holds man y splendours,
Wherever I may die,
I know to what brown country
My homing thoughts will fly.

An Australian Heritage of Verse, edited by Jim Haynes
©SarahShuckburgh