Music and Mime
Kochi, Kerala, India
by Sarah Shuckburgh
Rulers and religions have come and gone, but traditional ays survive in the Indian state of Kerala, says Sarah Shuckburgh.
On stage, the young man is applying his makeup – mixing green powder to make a paste fit for a hero, and adding black eyeliner, zigzag brows, and wide, vermillion lips. He sits effortlessly in the lotus position.

Kathakali is the traditional theatre of Kerala, a ritualised mime in which stories from the Mahabharata, the Ramayana and the Bhagavata Purana are enacted by male actors who have studied the ancient art since the age of eight. Performances typically start at dusk and last until dawn, lit only by one flickering oil lamp in the centre of the stage. This one-hour show is for tourists, like me. When the beautiful youth has completed his maquillage, a wrinkled old man enters, and, to thuds from a drum, demonstrates a perplexing series of eye movements, followed by wiggles of eyebrows, mouth, head and hands.


Two more musicians arrive, with gong and cymbals - and the play begins. From behind a curtain, the green-faced youth appears, now dressed in a knee-length crinoline and yard-high gold crown. Bells adorn his shins, and he flicks waist-length black tresses with long silver fingernails. As a singer intones the narrative, our hero struts and adopts strange postures, talons scissoring and pointing, knee-bells jingling, bare feet stamping. I am riveted and bewildered.

In comes old Wrinkly, also in a mini-crinoline, and with inauspicious yellow face-paint. He is the devil, disguised as a loose woman and sent by the demon-god to tempt the hero. A singer chants the dialogue as the demon drag-queen tries all the tricks, but our hero isn't fooled and eventually chops off her head, ears, nose and breasts.


Darkness falls as I walk back through dimly lit streets to Malabar House, a stately colonial bungalow turned chic boutique hotel. I dine in the courtyard on coconut fish curry and crispy appams, while musicians perform strange Carnatic ragas on a seven-string vina made of resonating gourds, and a barrel-shaped mridangam drum. Huge fruit bats swoop in the hot night air, as I sip tulsi, a fragrant infusion of local basil.

I am still thinking about the fate of loose women the next day, when (after a breakfast of iddli, dhosa and masala chai) I visit the Mattancherry palace, a series of gloomy rooms with dark teak ceilings and stern portraits of dead Maharajahs. The highlight is a sequence of intricately detailed frescoes, painted in orange and red dyes made from saffron and madder, and depicting scenes from the Mahabharata and the Ramayana. I try in vain to spot the scene from the Kathakali performance, where the hero-god beheads the demon-woman.

My guide, Sabu, tells me that despite its educated, literate population, and laws forbidding dowries and allowing divorce, Kerala has India's highest rates of wife-beating, fatal 'kitchen fires' and other female molestations. Sabu's explanation for this paradox is that the statistics are social constructions. Other less literate states rarely report such crimes even though they may occur more frequently - while educated Keralan newspaper readers have come to expect sophisticated investigative journalism.

In Kerala, Hindu widows are permitted to remarry, but Sabu explains that, as elsewhere in India, wives are traditionally blamed for their husbands' deaths. Suttee (burning widows alive on their husband's funeral pyres) still occurs in rural Kerala, and, according to Sabu, many widows resort to prostitution, or retreat to segregated quarters. It is not only in the Kathakali theatre that the heroes are men.

Kerala's social policies seem to have plenty of loopholes. Dowries are illegal, but bridegrooms' families still expect a 'present' from the brides' parents. Bribery is against the law, but payments of 'permissible income' continue, for instance to a policeman if you are caught smoking in public. Begging is banned except outside temples, but gangs of beggars come from other regions. Kerala is officially a dry state, but hotels and restaurants can buy licenses to serve Indian wine and beer, and every village sells 'spurious liquor' – illegal toddy.


Sabu takes me to the old Jewish quarter, where Kochi's once-bustling oil and pepper exchanges are now silent, closed with the advent of online dealing. In the narrow streets, touts hassle tourists, urging them to buy carved wood, clothes, spice boxes, lamps, masks and bric-a-brac. We have lunch in a waterside restaurant - formerly a ginger warehouse. As we nibble local cashew nuts, the chef warns: "Chicken curry no good. Prawns not recommended." I plump for fish moily, speckled with whole cloves, cardamom seeds, chillis and blackened sticks of cinnamon, washed down with fresh lime and ginger soda.

As the afternoon cools, I explore the narrow lanes of Fort Cochin, with its enchanting mix of Portuguese, Dutch and British colonial architecture. Gabled cottages give a sleepy village atmosphere. Scarlet bougainvillea frames stable-doors, and rooks caw noisily as the sun drops behind hundred-year-old trees. Every façade is festooned with tangled electric cables.

Skirting a grassy parade ground where several informal games of cricket are in progress, I pass the house where Vasco da Gama lived, and the church where he was buried, which has, over five centuries, welcomed Catholic, Dutch Reform, Anglican and t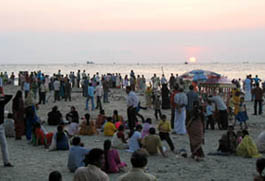 hen Church of Southern India congregations. 'Doubting Thomas' is said to have brought Christianity to Kerala as early as 54 AD.

Down at the seafront, thousands have congregated: fathers and sons are immaculate in crisp white lunghis, wives are elegant in orange and red saris, little girls in colourful ankle-length skirts. Passersby give me shy but welcoming smiles, and the bravest ask me "Where coming from?" or "Hello English?" Ice-cream vendors jangle bells to attract custom for their lurid orange cornets. Ramshackle stalls offer plastic windmills, flashing brooches, coconut milk, or fish, fresh from the sea and fried to order. A young boy kneels in the dust, producing smudged Spirograph designs on tatty pieces of paper. Everyone is chattering in Malayalam.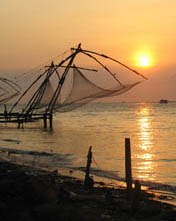 The stony shore is strewn with discarded coconut shells, plastic straws, ice-cream tubs and rubbish. Boys gather to watch a rat-snake slither across an avalanche of garbage, in search of its favourite prey. Some families are paddling, fully dressed, in the choppy, litter-strewn waves.

At the famously picturesque Chinese fishing nets, I pause to watch the crimson sun sink into the green-grey Arabian Sea. Teams of fishermen are hoisting nets with teak and bamboo levers, a method introduced by Kubla Khan's traders in the 14th century. At this time, Cochin was already one of the world's most important harbours, used by Arab and Chinese merchants.

As I walk back through gathering dusk to the Malabar Hotel, I am caught up in a noisy throng of fami
lies with wide-eyed children and sleeping babes-in-arms, eagerly heading towards the dimly-lit Kathakali theatre. I picture the actors, applying yellow and green face-paint, donning crinolines, wigs, bells and silver talons, wiggling their eyebrows and stamping their feet to the drum-beat. An all-night performance of Kerala's traditional mime is about to begin.

Sarah travelled with Greaves Travel www.greavesindia.com
First published by the Telegraph
©SarahShuckburgh